Ever wish someone would listen to your problems and then DO something about it? Well, we can't help with all your problems, but we can definitely do our best when it comes to working with your data using FME.
As Product Owners for FME Desktop and FME Server, we pull together feedback from our teams and from our end users (like you!) to build the best version of FME we can.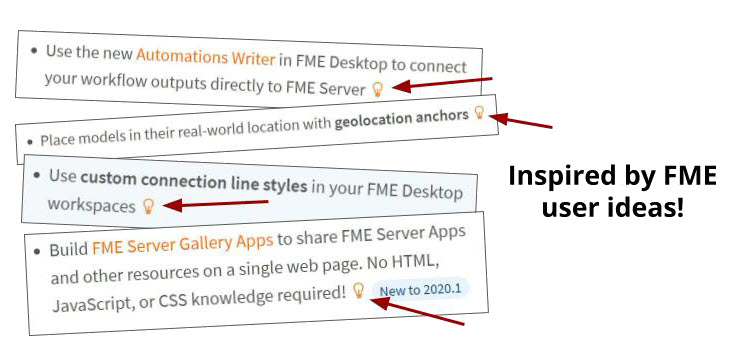 You may have noticed that the last few FME releases have included many user ideas like the Automations Writer, Tableau Hyper support, and FME Server Gallery Apps in FME 2020.1. So, we thought, why not let people know how these suggestions move from ideas to real FME features.
Ideas in the FME Community
Ideas in the FME Community is a place where users can share any "Aha!" thoughts about how a change or addition to FME would improve their experience or help solve their data challenges more effectively. This could be anything from "Make it easier for me to find ______!" to "It would really help me if you could read from ______ database".  Ideas is where we look to most for feedback on what users would like to see in FME.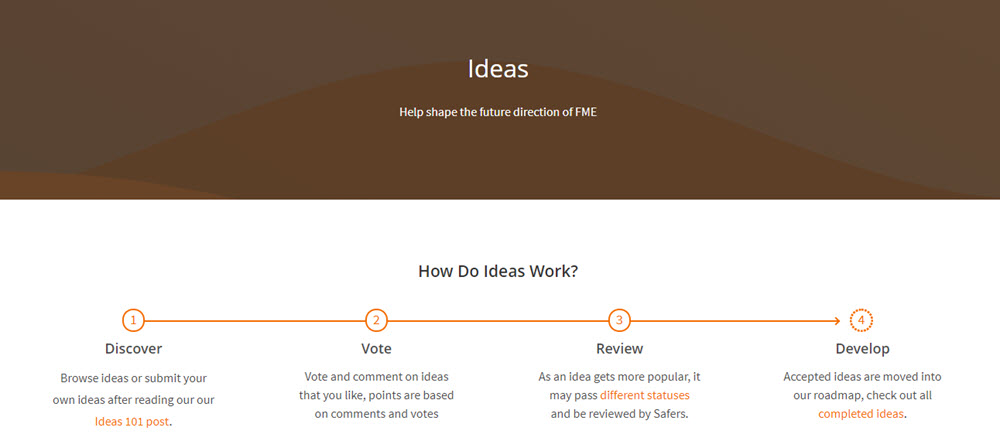 Most of the time, we find that these ideas are sparked when someone is faced with a challenge and thinks to themselves, "If only FME could do this one extra thing…" By sharing these ideas in the FME Community, other users who are experiencing the same issue can discuss the challenge and vote on the idea which helps us evaluate the scope and impact of the problem.
Why Ideas?
Ideas serves a few very important purposes for our customers and for those of us "behind the curtain".
Firstly, it is a great place to hear what our users are saying about FME and how they feel it could improve. We feel strongly about continuously improving FME, and Ideas is a key piece of the user experience feedback loop. It means we are getting unfiltered, democratically promoted feedback from users.
Secondly, it is a place for like-minded FME users to discuss  their unique experiences and challenges with data. This usually results in more context emerging about the problems that ideas would solve, which is so important!
Lastly, it's a great place for us to reach out and engage with our user community. While we are still developing a refined process for how feedback will flow from ideation through to implementation (and into the hands of the user!), one of our overall goals is to engage with the FME Community more often as a product group. 
The Best Way to Post an Idea
The best way to suggest an idea is to clearly state your idea along with the context in which your idea was conceived. If we can understand the type of workflow(s) that your suggestion will improve, our development teams can focus on solving the core problem or challenge while keeping your suggestion in mind.
Adding diagrams and sharing sample data or workflows can go a long way, too. If we're able to experience the same challenge as you, it really greases up the cogs in our minds to work towards a solution.
If you see another user's idea that you believe will make your experience with FME even better, it's really helpful to add a comment with additional context in the thread for that idea. Your approach may be slightly different from the original poster, and understanding the problem from two (or more!) angles is super helpful. Don't forget to upvote these ideas!
What the Process Looks Like
When we talk about the process of choosing an idea, what we're really talking about is choosing what user problem or set of problems we can solve to make the greatest positive impact for our users. 
While ideas from the FME Community are a great source of these insights, we are also digging into conversations had with our Success and Customer Engagement teams, chats from the World Tour, User Conference, Partner Summit, the annual user survey, webinar surveys, etc. Where we find common threads across these domains is where we tend to focus our efforts. Then, we take the time to research the problems to ensure we understand them correctly and evaluate what it would take from a technical and/or design standpoint. 
In a way, ideas are better seen as signals, rather than direct solutions.
There are lots of ways to solve a user problem, and an idea itself may be the best way to solve a problem, but chances are that with further exploration we'll be able to find one solution that solves multiple challenges.

For example, in the FME 2020.1 release, we added "data-aware transformers" that populate attribute values and unexposed attributes from cached data. There wasn't an idea out there that explicitly asked for this capability, but rather a number of ideas pointed to a common set of user pain points ("Why can't I expose attributes where I expect to? Why can't I get unique values?"). 
So, if we discover a powerful match between the insights and ideas we've heard from users, what is feasible from our developers, and what makes sense for the future growth and innovation of FME… consider those ideas chosen!
Working Together
As we're sure you've gleaned thus far, we are passionate about solving user problems! 
Something we think we don't talk about often enough is how creative our development teams are. When our Success and Product teams bring user problems and related ideas to the Development group for brainstorming, ideas and solutions emerge that we may never have thought of on our own! 
We all represent different perspectives, so when we can unify those perspectives around a common goal, it's a very powerful thing. 
---
Want to contribute? Here are a few ways you can share your voice with Safe: 
Annual Survey. Sign up for a

free trial

to get on the mailing list and receive the survey.

Annabelle Glass
Annabelle is a Product Owner for FME Desktop Authoring. She originally studied geography, GIS, and psychology which she likes to think gives her a unique skillset for product management at Safe! Outside of the office, she can be found training for triathlons (she completed her first Ironman last year!) or hanging out with her retired greyhound, Honey Bun.

Rylan Maschak
Rylan Maschak is the Product Manager for FME Server. After studying geology and pursuing GIS opportunities, he discovered the lovely folks at Safe. Originally an FME Expert, Rylan found his passion for solving user challenges in working with both users and product developers. Outside of work, he enjoys kicking back with a glass of whisky and working on his website.