We officially released our most powerful version of FME this month, supercharged with new enterprise integration capabilities, unrivalled data support, and more. FME 2020.0 has taken the authoring and automation experience to new heights, providing organizations and teams with greater flexibility, accessibility, and control over their data.

When it comes to solving big data challenges and scaling solutions for the cloud, we've extended FME's capabilities in connecting to the enterprise cloud. We'll be sharing more updates about this on our blog in the coming weeks.

Today, we're excited to announce that Safe Software is a Google Cloud Partner and if you haven't already heard, FME is available on Google Cloud Marketplace. 

Deploying FME through the Google Cloud Marketplace allows you to start using the full FME Platform with a few quick clicks. You can then build and automate your data integration workflows in your Google Cloud project. This is currently a Bring Your Own License (BYOL) offering, so be sure to have your FME license codes ready. If you'd like to request a trial license, click here to get started. 
Now available: Google BigQuery Writer

With the release of FME 2020.0, analyzing your spatial data and unlocking valuable location insight in Google BigQuery just got easier. New support in FME allows you to write spatial data features directly into your BigQuery dataset. With the addition of BigQuery GIS to its roster of key features, Google's cloud data warehouse allows you to analyze and visualize geospatial data through integrated support for geography data types and functions.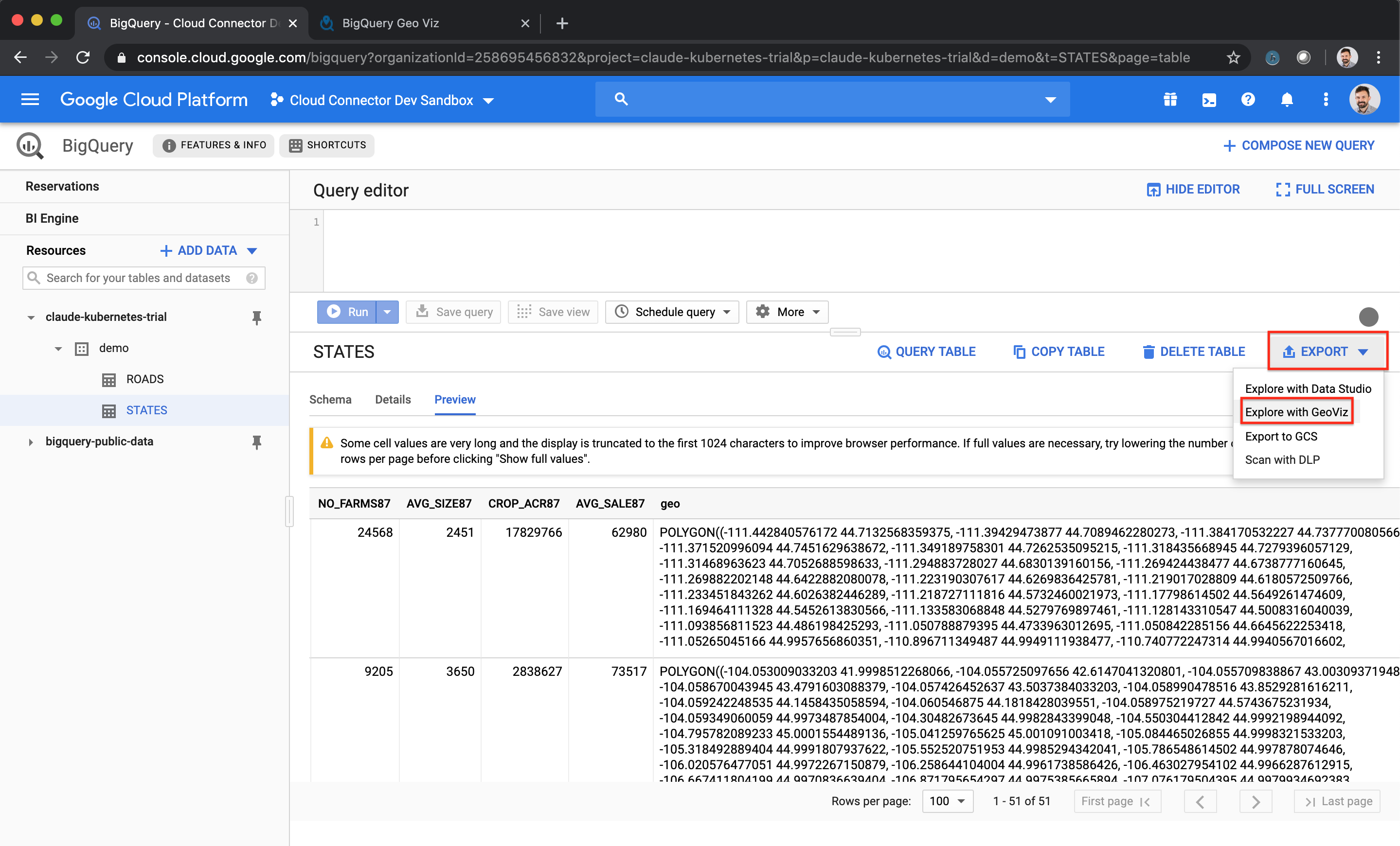 Sample end result: Geometry from our source demo dataset is written into BigQuery using FME in a newly created geography column ("geo"). You can then visualize this data by selecting the "Explore with GeoViz" option. Learn more in our how-to video and article below.

Take advantage of FME's powerful data transformations to ensure high quality datasets in BigQuery. Whether you need to integrate or migrate small to large datasets, use FME to connect to over 450+ formats, applications, and databases to maximize the value of your data.
Ready-to-download BigQuery packages and templates on FME Hub
To begin using our Google BigQuery Writer in FME Workbench, search for "BigQuery" in the Add Writer dialog or via the Quick Add search function.

You can also visit FME Hub and download the official package. Pre-packaged for easy use, it includes the format writer and GoogleBigQueryConnector transformer, which allows you to run queries and load features into tables. There are also sample data templates available for download, including a simple workspace that loads a single Shapefile and GeoJSON file into BigQuery GIS or a dynamic workspace that loads multiple Shapefiles with different schemas. 
How to load geospatial data into BigQuery
We've put together a video below that will show you how to integrate Google BigQuery with FME. We'll walk through the new parameters of the Google BigQuery Writer and what your data will look like in BigQuery. For additional instructions, visit our tutorial series, "Getting Started with Google BigQuery". 
Let us know in the comments below how you'll be using FME to transform and analyze geospatial data in Google BigQuery! As always, if you have any questions, please reach out to us and we'll be happy to support you.

Tina Sha
Tina is a product marketer at Safe Software. When she isn't sharing the amazing stories of our customers, you can find her at local coffee shops, discovering a new noodle dish, or working on her next DIY project.