What is the FME Community?
More data is not better data. FME was created to maximize the value of your data through data integration and the FME Community was created to support that journey.
The FME Community has seen many changes in the past year. Since we published this webinar, the FME Community system has migrated to Salesforce. Other updates to the FME Community include updated badges, new forums, upcoming (and more regular) events and new tutorial pages.
FME Community is a place where FME users can gather ideas, discuss solutions, support one another and even talk about Star Trek. It is a community of learning in a fun environment where you can build your skills. There is also a lot of available content and tips for FME users to become FME superheroes or just be more efficient at integrating data. It is also an extension of our technical support team.
Remember, more data is not better data, and this is a community that will help you gain from your data… better!

We are constantly growing and here are 10 reasons why you should join the amazing FME Community.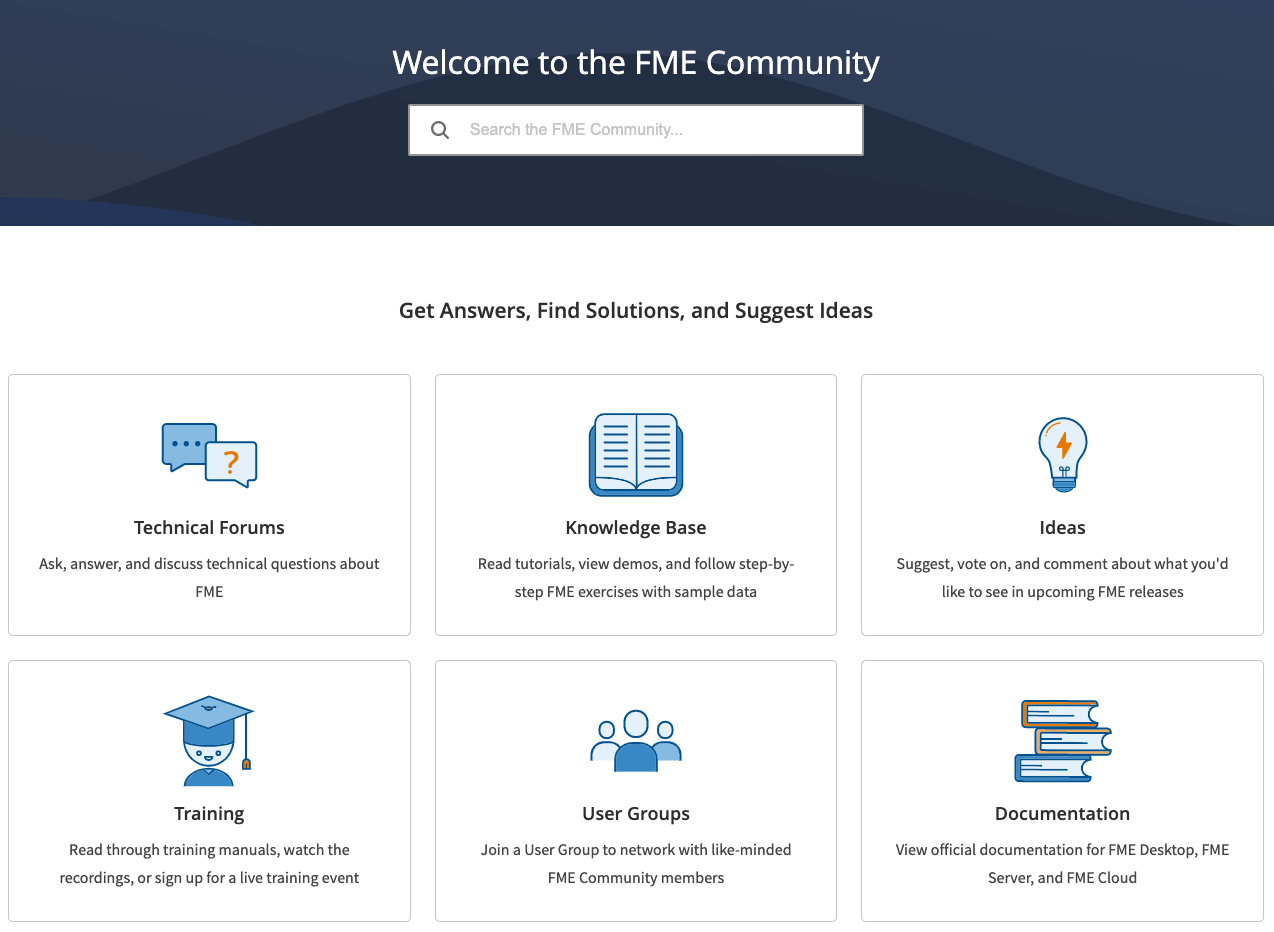 Why You Shoul
d Join the FME Community
1. Advice 
The FME Community is an extension of our support team. It provides advice for all levels of users in different languages. We believe in actively supporting each other because no question is too big or small. We also love recognizing users' achievements. We are learning just as much from you as you are from us!
The FME Community is filled with great content. There are over 16,000 forum posts, topics and questions that have been answered that you can browse through. Many of these questions answer a broader audience because it is likely that many users have the same questions as you. Remember, no question is too big or too small and experts (from FME experts at Safe Software or from topic experts in the FME Community) or other users are happy to answer them or figure them out with you.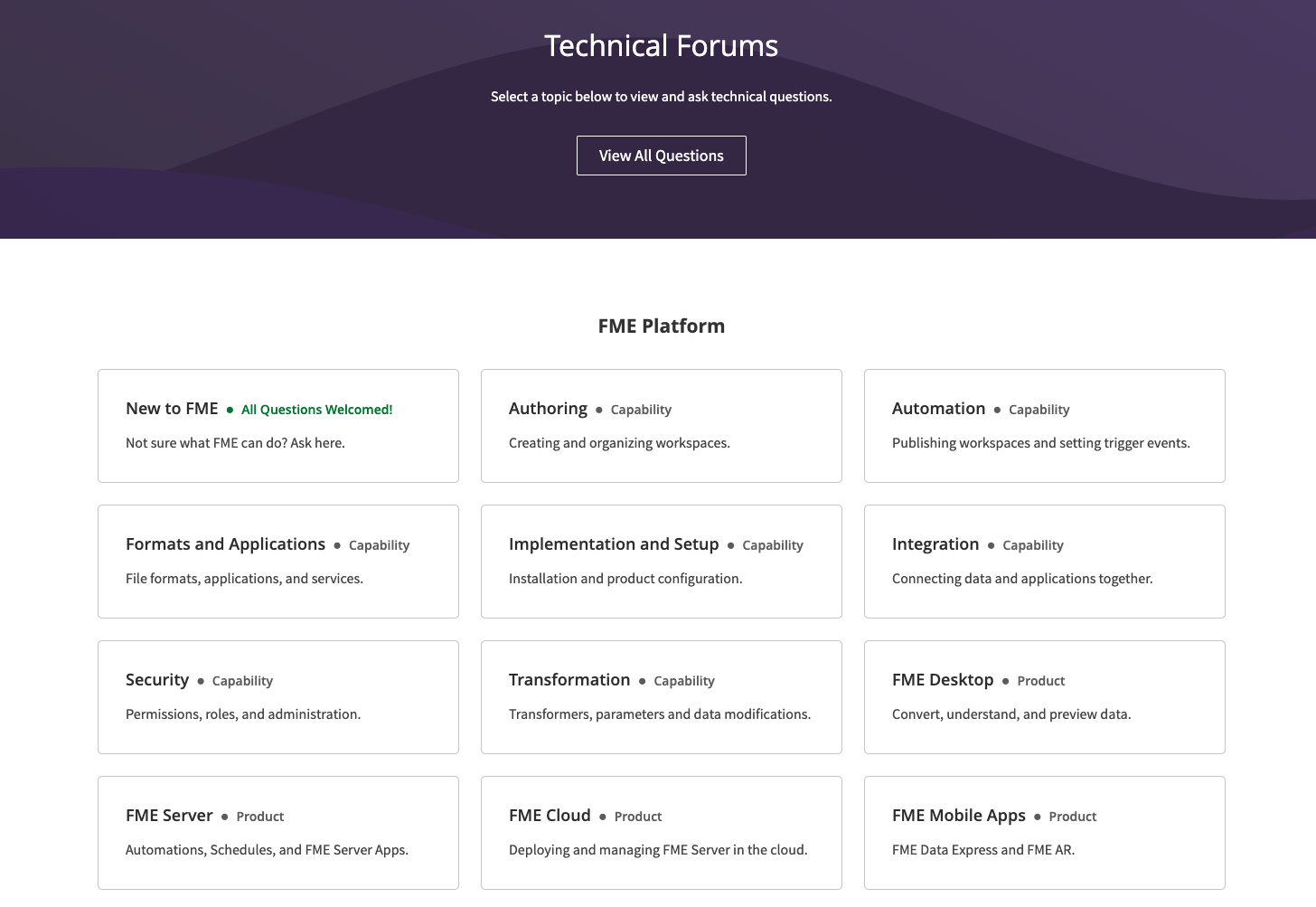 FME Community users have 24/7 access to solutions, even when experts at our office are only available from Monday to Friday. 9-5. It may be quicker to solve a problem by posting on these forums. It is also easy to post a new question if you cannot find relevant information.
You can even submit new support cases and view your open cases with the Safe Support team. Just another way you can check in on the status of your existing cases and communicate with our support team!
2. Gain expertise
On the FME Community, you can ask questions, answer questions, share ideas and vote on ideas that will help improve workflow. The FME Community is a place where you can gain new knowledge and perspectives or skills to add to your resume.

The FME Community encourages community learning and development, but more than anything it is a community of learning. If you are trying to wrap your head around something on FME Academy, this would be the perfect place to look at!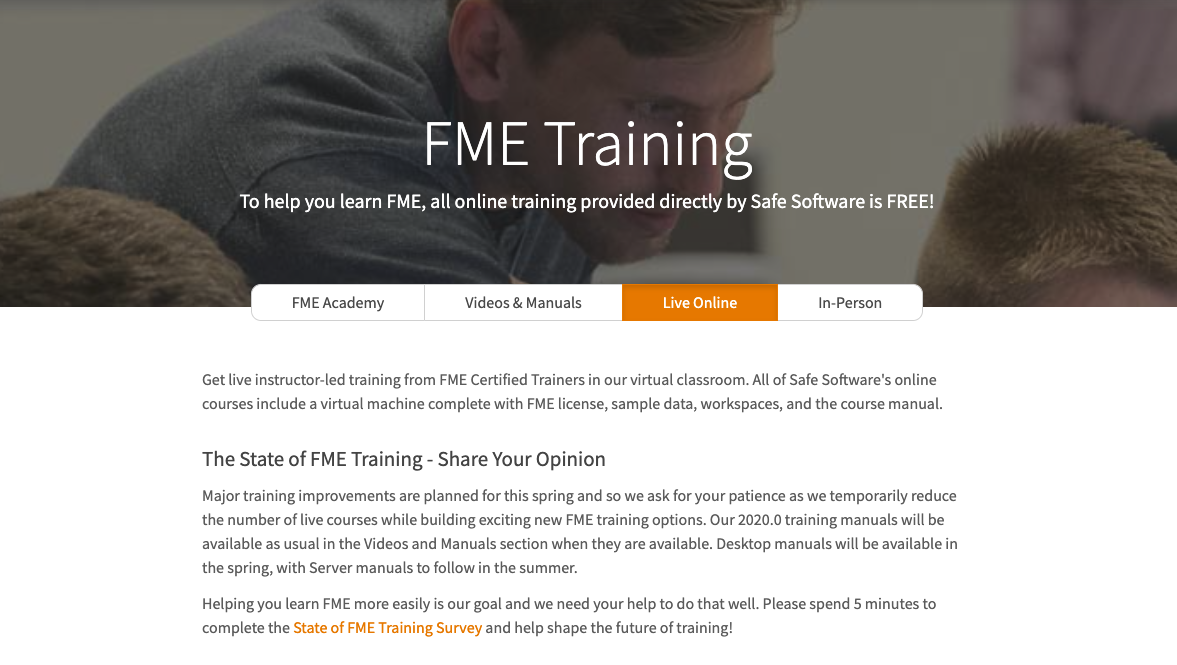 We recognize the hard work and effort users put into sharpening their FME knowledge with the FME Community. Users can climb the leadership board. There is also a lot of content that is written in French so don't be afraid to write in your native language or in other languages. 

3. Learning
The FME Community offers a breadth of free learning resources even if you do not have the time to go through the courses in FME Academy. Although the resources are condensed, they are effective in building solid foundations for using FME.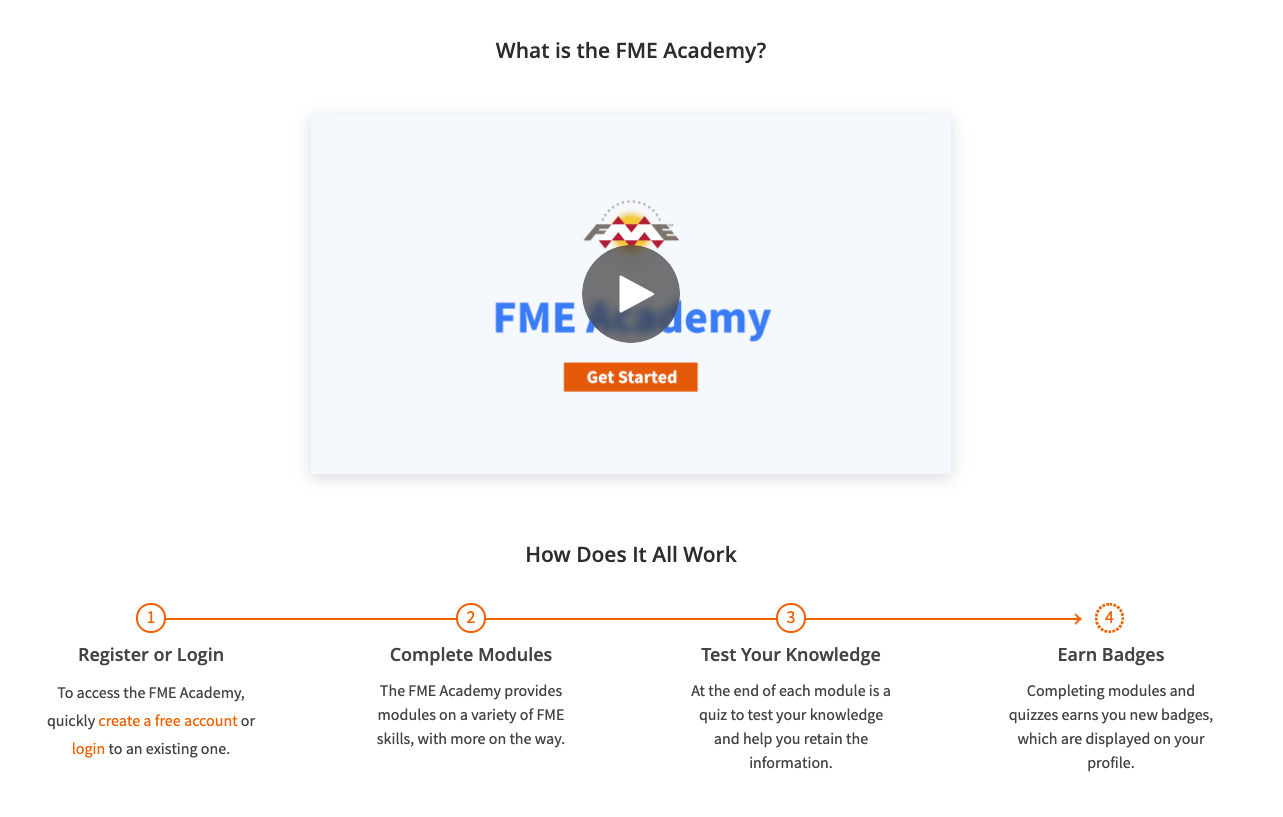 You can also remain on top of the best practices, recommended transformers, stay aware of known issues and issues that are being worked on. Furthermore, sample workspaces and datasets accompanied by step-by-step guides to get tasks going are available on the FME Community too. 
The FME Community is basically a short-cut to getting to know integration tools better and adding more skills to your resume. These are valuable skills to add to your resume, especially since FME was recognized as part of Gartner® Magic Quadrant™ for Data Integration Tools!
4.
Networking
You can make great contacts and connections from different industries, fields, and countries! You will meet many other users through the different discussion boards. Those who may have the same question, those who speak in the same language(s) and the list goes on. 
Community is all about connection after all, it doesn't have to be strictly professional on the FME Community – it could be just as simple as bonding over a favourite movie ….. Users can also recognize one another. This is a community for cheering each other on as well.
5. Rewards
We want to show our users that we truly value and appreciate them and their input. There are many new reputation points and badges to go around to show that. We also have a planned schedule of events and activities listed for 2021 here for our users to participate in.
6. Fun!
Remember, there is no such thing as a stupid question on the FME Community. It is meant to be an enjoyable environment where non-FME related stuff can be discussed too. It is a platform where users can plan local FME group meet-ups or participate in  games and quizzes. A few examples include our upcoming Geoguessr session and postcard exchanges that are planned for 2021. You can also read about What's Up Wednesday on this thread.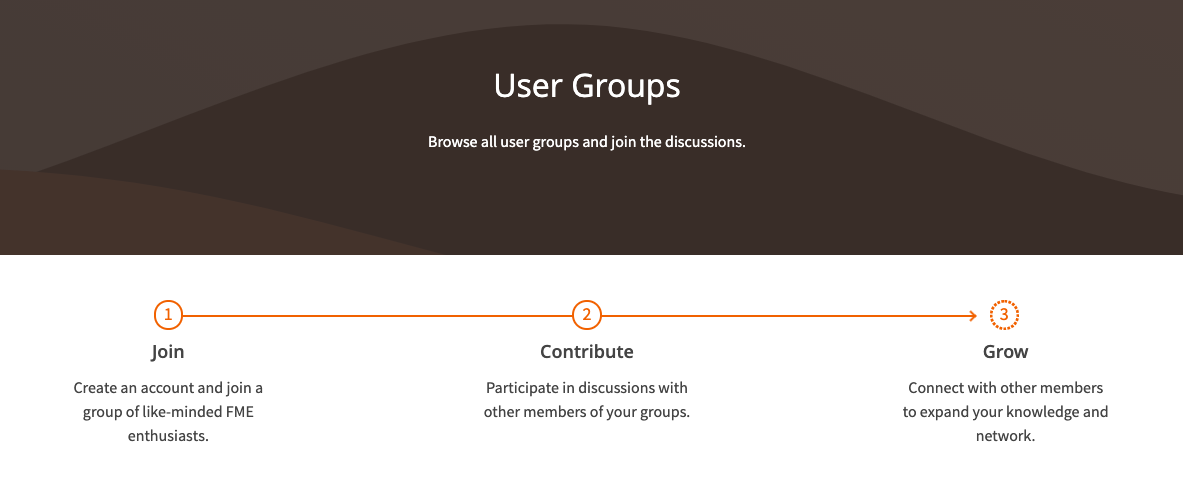 The FME Community is a place where you can learn and have fun. Put your knowledge to the test and have fun at the same time!
7. Accessibility
The FME Community is completely open and free. It is very accessible. It is a place where you can share ideas about the future of FME or offer product reviews and suggestions. This will help FME to grow. Additionally, it is the same sign-on for Safe Software's website, the FME community – everywhere! One sign-on only!
8. Discussion
This space offers users the opportunity to share ideas and ask questions, especially for new users.


Your feedback and opinion matters and we cannot say that enough. Share product suggestions, user stories, and your wins no matter how small or big. We are here and keen to listen. We have come up with an idea in the past from different ideas posted by users of the FME Community. Ideas for an idea!
9. Teamwork
Our FME solutions do not just come from FME Experts at Safe Software. They come from the users and FME Community's topic experts too. You know the saying, it takes a village! The FME Community is a good way for us to get help and for everyone to help one another. The FME hub lets you share workspaces and custom transformers too because they can be tricky to set up. Nonetheless, it all leads back to FME.
10. Community
Once again, at the end of the day the FME Community is a place where you can learn and speak to one another. We are learning from you too. It is basically a user conference that goes on 24/7. 
Have we given you enough reasons to join us? If you need more reasons or have any questions, comment below. Join our community today!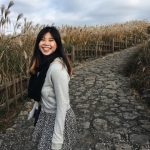 Nicole Lee
Content Marketing Specialist and seasoned Charcuterie Engineer at Safe Software who enjoys cycling and keeping up with the latest developments in data integration, GIS and anything MarTech!