Once again this year we ran the 12 Days of FME Hackathon, giving the FME community the chance to submit a project of their choice (as long as it uses FME) for a chance to win this prize pack: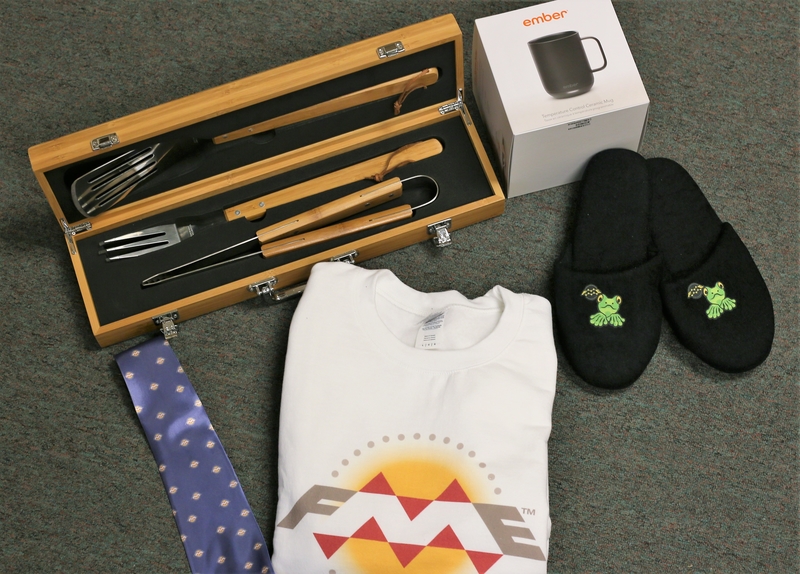 It seems like you can group entries into 3 categories: holiday related (an FME based letter for Santa or AR-based advent calendar), entertainment (cats and facts delivered by FME) or 'serious' (outputs that would aid productivity, like an FME Server log parser).
The voting deadline closed at 12pm PST on Tuesday 18th December, where I carefully counted the votes on all the submissions and calculated who the winner is! But before we get to that…
At the time of voting closing, we had two entries in second place from egomm and jdh:
Elizabeth added a 'Mince Pie Calculator', which will tell you how many mince pies (a British sweet pie, often served around Christmas) or Purple Ones (a chocolate with a hazelnut and caramel centre) you can eat based on your calories from Fitbit. The workspace uses an image of the user and adds the correct number of treats into the palm of your hand using an offsetter.

Joanna uploaded a LinetoIntersectionExtender custom transformer to FME Hub, which allows specific lines to be extended to an intersecting line as long as there's one within the Maximum Extension value.
And the winner is…
Last year David Eagle submitted an entry that definitely fell under the serious category, but after only coming in second place, he changed tactics this year to secure first!
The 'Laugh (on a schedule)' entry secured the most votes at the time of votes closing. This allowed users to set up delivery of a random xkcd comic straight to your email address. The output was nicely styled using a HTMLReportGenerator transformer which then uses the Emailer to send it out, once you've provided a valid email connection and the address of a recipient. You can then either run the workspace when you want a comic delivered, or upload it to FME Server/Cloud to send them automatically!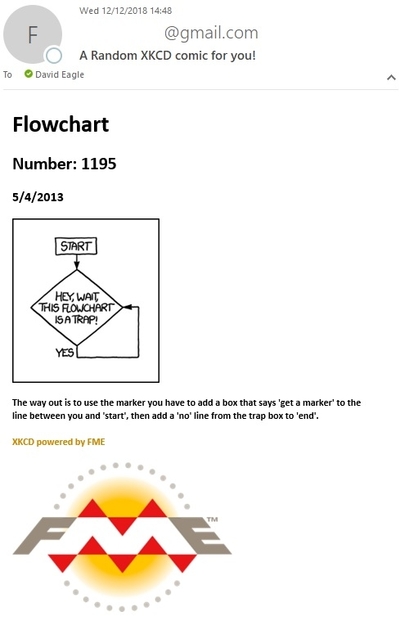 You can check out all of the other entries and download any of the submitted workspaces or transformers from the 12 Days of FME Hackathon page on the FME Knowledge Centre.
Thanks to everyone who participated and shared something that they have created with FME!

Jennifer Luther Thomas
Jen is the FME Server Technology Expert Team Lead at Safe Software. She enjoys lifting heavy things and being active outdoors. She enjoys these things so much that she's hoping to qualify for powerlifting nationals 2020!