FME Evangelism Weekly Issue #3
1) @Tcl2 Temporary Filenames
This is a new ability (build 5147+) with our @Tcl2 function to generate temporary file names within a TCL script. The syntax is FME_TempFilename [] []
While this will be useful to some users, for Safe Software, it allowed development of a new transformer….. the ImageFetcher…
2) ImageFetcher Transformer
This new transformer (build 5147+) – when handed the URL of a TIFF, PNG, GIF or JPEG image – will return that image as a raster feature. The raster feature can then, of course, be further processed or converted in any FME supported manner.
If an error occurs and 'Continue On Error' is set to Yes, the output feature will have no geometry and the error message will be logged, but the translation will continue. However, if an error occurs and 'Continue On Error' is set to No, the translation will fail.

Above: An image on the Safe website – and as read, written to GeoTIFF and opened in the FME Viewer.
This example can be found on fmepedia at: http://www.fmepedia.com/index.php/ImageFetcher_Example
Again, this will be very useful in its own right, but is really special when combined with another new transformer… the WebCharter…
3) WebCharter Transformer
Just last weekend Google released a new web service through which you can submit numeric data to create a chart – much like you can do with an Excel spreadsheet. So this new transformer (build 5147+) takes a set of data in FME, and turns it into a URL which can be submitted to this Google Chart API (http://code.google.com/apis/chart/)
One URL is created for each feature that enters the transformer. The data for the chart is taken from the list specified, and each element of the list must be numeric. Only one data series is currently supported (i.e. there is no ability to overlay two numeric sets of data on the same chart).
The transformer supports a subset of the Google chart types: Line charts, Bar Charts, and Pie Charts.
How do you submit that URL? With the new ImageFetcher of course!
But also, any format that includes the ability to embed a URL – such as a link on a KML placemark – in effect lets you add a dynamic chart to the data!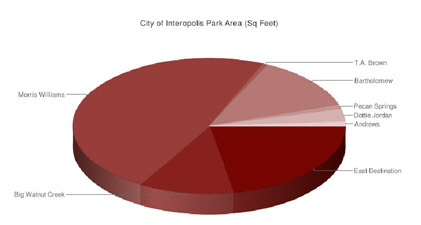 Left: Interopolis parks data, converted to a Google Chart URL, read with the ImageFetcher, written to GeoTIFF and opened in the FME Viewer.
This example can be found on fmepedia at: http://www.fmepedia.com/index.php/WebCharter_Example
4) HTTPS Support
On the web theme, a number of users have been asking if they can read data from HTTPS URLs – as opposed to an open HTTP site. The answer is yes …. but for the moment Safe has to be very careful about how and where we ship it.
So if you have a burning need for this, then please email support@safe.com with your request and we'll work something out.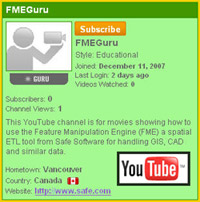 5) FME on YouTube
I'm sure you all were wondering why we didn't have it before, so here you are – a YouTube channel for FME users. Since there is a choice of account type – one of which is 'Guru' – the group is named the FME Guru.
At the moment, we only have one movie up there – the transformer drag-and-insert demo – but we hope to get some of Ryan Cragg's excellent movies there soon, the video of GIS day, any small demo movies we do in the future, and perhaps some training exercises (time permitting).
See: http://youtube.com/FMEGuru
6) New GeoConcept Support
The current FME2008 beta version has an updated reader to read GeoConcept data. For those who aren't familiar with this format, GeoConcept is a French GIS application
The reader updates are based on new functionality provided by GeoConcept. The key benefits are that the reader is a lot faster (3x faster in recent tests) and that you no longer need to have GeoConcept installed to make use of the reader.
The new reader also supports GeoConcept v6, but is (with a few small differences) fully backwards compatible with older versions.
7) AutoCAD_OD Writing
If you thought FME's AutoCAD Object Data reading was impressive, then wait till you see writing! In a sneak preview of this functionality I was able to see how we can convert attribute data into object data – so easily you wonder what all the fuss is about!!!
Breaking News: In the background I can hear Dr. Lutzenstein saying, "Igor! Throw the switch Igor" which means this should be in a beta by this time next week.
8) Advanced Format Handling
There are a couple of components for handling format reading and writing at an advanced level which are worth mentioning. Both of these emphasize how workspaces might be generated by a developer but used by a lower level user without them having to be aware of the technology used.
The generic writer is a destination writer whose format is not determined until the translation is actually carried out. This allows a developer to set up a generic workspace capable of writing to any format the user decides.
The "Feature Types to Read" parameter allows a user to decide which source feature types will be read during the translation. The benefit is that the user doesn't have to edit the workspace and disable non-required source layers, they can be defined in the run-time dialog.
Although these items are not particularly new – they were in FME 2007 – they are particularly topical because they come in so useful when deployed using FME Server. And what is new is that they've been added to the FME training course in a special section on format translations. So anyone interested in advanced format handling with either of these functions can find screenshots and examples by taking FME 2008 training next year.
9) 3D Elements in the Creator
As of build 5145 the Creator transformer now includes the ability to create 3D related objects such as Boxes, Faces, Triangles etc.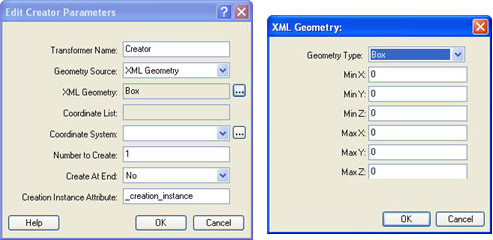 Above: A Creator creating a box feature… [actually the coords in the screenshot look wrong… perhaps a bug where they get reset on reopening the dialog?]
Below: …the same box feature as written to PDF and opened in Adobe reader.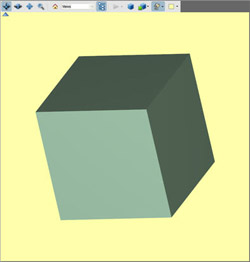 This week's Evangelism Weekly was written to the tune of…
The Stylistic's "Can't Give You Anything". A great, upbeat, funky Philadelphia soul track.
It's in the Itunes store, but if you're too cheap to pay 99c, here's a YouTube link…
http://www.youtube.com/watch?v=LPTbzPHkEGA
Have feedback?
Email FME Evangelist, Mark Ireland at mark.ireland@safe.com.