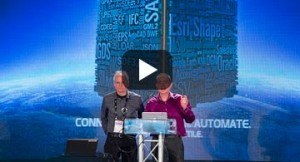 Just in time for summer, videos and slides from the recent FME International User Conference 2014 were posted earlier this week.
But with 81 videos, sorted into 35 tags, totaling over 34 hours of footage – there's a LOT of content. So where should you start?
Top 15 Videos from the FME UC
To help plan your viewing, here are the top 15 sessions as voted on by conference attendees:
Honourable mentions to Tim Downing, Michael Oberdries, Peter Laulund, Christian Heisig, and Dr. Lutz Ross.
What If I'm Only Interested in 1-2 Topics?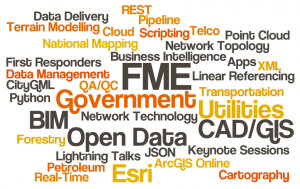 Just because you like watching TV, doesn't mean you enjoy both CSPAN and ESPN. We get that. So, here are two ways to find what you want:
1. Tags: The videos have been sorted into 35 different tags, ranging from Open Data to ArcGIS Online, and yes Don, even to XML.
2. Search: Use the search bar on the main page to search titles.
What's Your Favourite Moment?
People have been taking to Twitter to share their favourites.
Really cool keynote by .@pwramsey at #fmeuc. http://t.co/gjluTs0YEO

— Amanda Taub (@amandahstaub) June 24, 2014
One of the best parts of #FMEUC was when @donatsafe showed his true #xml passion http://t.co/bne58MzBg6

— Guido Stein (@GuidoS) June 26, 2014
This talk aboug spatial technology and body parts was all the rage at the #fmeuc : http://t.co/N8nwMlHTjl

— Avid Geo (@avidgeo) June 26, 2014
My favourite clip from the videos is the same as Guido's… Don getting escorted out of his own conference.
So pull up a few chairs, call your friends, and let this weekend's FME UC video marathon begin.
…And be sure to share your favourite moment, either in the comments below or to #FMEUC.