Hi FME'ers,
In the past FME has been compared to a factory, an engineering workshop, an airport, a superhero, and any number of movies from The Wizard of Oz to Star Trek, via Transformers and X-Men.
However… this is the first time I recall that I can compare it to a beauty spa! And yet, FME2011 really has undergone a range of treatments designed to give it a more youthful appearance, and smooth out any unsightly wrinkles!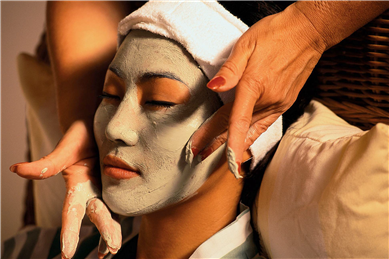 An FME facial?

New and Improved Applications
Making their debut in FME2011 are two completely new applications: the Quick Translator, and the FME Integration Console.
The Quick Translator is a direct replacement for the old FME Universal Translator. At first glance it might not look a whole lot different (click to enlarge):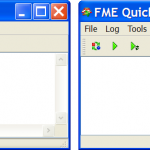 …and you'd be right there. Cosmetically it's much the same (just some new icons) and the functionality is very similar, with only some tools already available in Workbench being removed. The big difference is that – because of a new architecture – this tool can now be used on a Mac or Linux platform. To prove it, this is what the FME "start" menu looks like on a Linux system: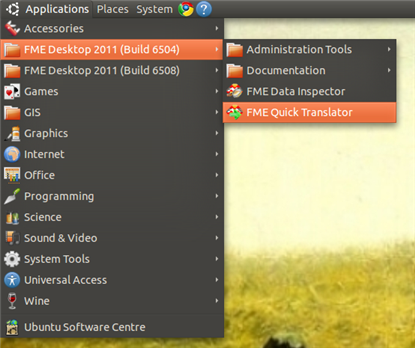 The Integration Console is a replacement for the tool previously known as the FME Administrator. In this case there are a number of visual improvements (click to enlarge):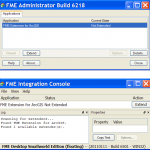 Everything nicely fits into a single dialog, and there is a lot more feedback on everything that goes on (notice the log window). Again, this is portable and so can be used on a Linux or Max OS.

New Workbench Look
Of course the most obvious changes to the look and feel of FME come in the updated 2011 Workbench.
To give relief from a dry and irritating skin, the shape and color of most Workbench objects has been subtly altered, along with a much nicer font. The change is slight, but the effect pleasing (click to enlarge):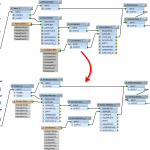 The Navigator window icons have undergone minor changes too (click to enlarge):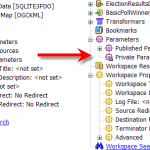 If, for some reason, you prefer the old-style objects, then you can select Tools > FME Options > Appearance from the Workbench menubar to provide access to a parameter to revert the style to the old "classic" look.


FME Themes
The ability to switch between old and new styles is made possible by added functionality that makes FME 'skinnable'. In other words, the style is customizable and users can now make up their own look and feel to FME. We're calling these "themes".
I don't think there's any documentation on the subject, so I guess I can call this a genuine scoop! You, the reader, are the first to be told the secrets behind creating a new FME theme!
Check out this diagram of a Workbench transformer:
As you can see, it is made up of several components. The uppermost component (where it says "Tester") is a file called banner_t.png. I happen to know that banner_t.png should be 432×72 pixels in size. So I can now make a custom image of that size, and use it for the top part of a transformer.
The parameter button is obviously a bit more complex. It has three states (transparent, yellow, and red) each of which can be in three different phases (normal, mouse over, button down) meaning nine different images are required to model it properly.
Full Specification
So, having seen the above, you'll no doubt want the full specification. You can find it here on fmepedia.
The specification is made up of two parts: a full set of images like the above, and a list of different images and their size in pixels.
Creating a Theme
If creating all of the images on the list is a bit daunting, don't worry.
Firstly, you can use an existing set of images and just modify them, rather than create them all from scratch. You'll find the classic ones in your FME installation folder, and the above fmepedia page has a set in the more modern style.
Secondly, you don't need to create all the images to use the theme. You can just create one or two. Any images missing from the theme will be replaced by the default. So, for example, I could just change the color of parameter_button_normal.png to green, if I felt that the workspace would be clearer when a green transformer button signified "ready to run".
Using a Theme
Having created a theme – whether or not it's a full set of images – I apply them to FME in the following way:
Create a compressed (zip) folder containing all the images
Rename that file from .zip to .wbtheme
Double-click the .wbtheme file
Then FME will install the theme, and give the option to make it the default. The name of the theme is taken from the name of the .wbtheme file (up to, but not including, the file extension). The files are installed in <user>/FME/Themes
The FME Options parameter shown above, will now include any theme that has been installed.
Here's one I created earlier. It's a "wooden" theme. Not very attractive, but you get the point. Note my use of a green (parameters OK) button!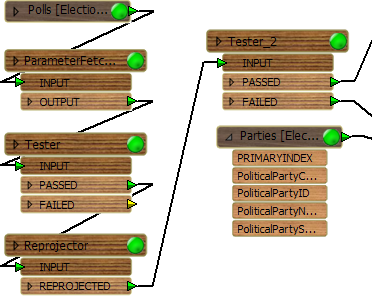 Potential Uses
Cute eh? But does it have any potential uses? Well, I can think of a few:
A theme for the visually impaired.
A theme for the color-blind
A theme in corporate colors (eg for a user/reseller)
A theme to highlight particular items (eg for demos or training)
A theme to add to the FME art movement!

Conclusion
FME2011 is a great way to care for your Workbench skin. It was not tested on animals, and is totally organic (being a by-product of coffee consumption). Also look for enhancements in FME2012 (a custom background image perhaps?)
If you play with creating a custom theme, then feel free to share it with users on fmepedia, or by emailing it to me. If I get enough I'll create a gallery of themes for everyone to use.
Regards



PS – don't forget the upcoming FME World tour!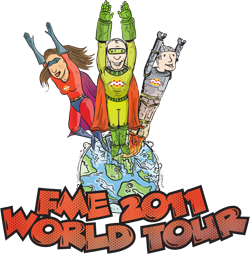 Mark Ireland
Mark, aka iMark, is the FME Evangelist (est. 2004) and has a passion for FME Training. He likes being able to help people understand and use technology in new and interesting ways. One of his other passions is football (aka. Soccer). He likes both technology and soccer so much that he wrote an article about the two together! Who would've thought? (Answer: iMark)