FME Transformer Gallery
Dissolver
---
Dissolves area features by removing common boundaries to create larger areas. Input attributes may be accumulated. This transformer accepts two-dimensional polygonal features, including donuts.
Dissolved polygons are formed when shared edges and interior edges between adjacent polygons are removed.
The example below shows areas before and after a Dissolver transformer was used.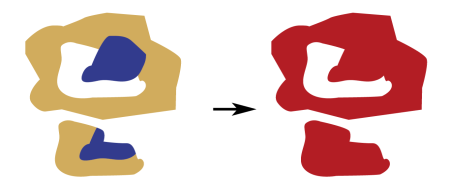 ---
---
People Who Used This Transformer Also Used - See All Transformers
---
Related Resources
There are no topic experts for this topic. Participate in the posts in this topic to earn reputation and become an expert.
I am having issues dissolving large sets of data, the Dissolver works fine and achieves the results I would expect but when I increase the number of data going in the ...
Dear FME Users, Have you ever used Dissolver transformer? Did it serve the purpose? Our Geometry Team is working on Dissolver Performance Improvement project.
Use the Dissolver in FME
Download our fully-functional FME Desktop trial, free for 30 days. No credit card necessary. Start integrating!