Enrich Data with Planet Imagery
Blend data with the latest images from Planet's 150+ satellites. Use FME's drag-and-drop interface to connect to data from the web, databases, GIS, DEMs, and hundreds of other systems.
Build a live satellite map by integrating data with the most recent images.

Clip, reproject, resample, classify, and process Planet images using FME's 400+ transformers, including 50+ specialized raster transformations.

Load Planet imagery into your existing data repositories and business intelligence tools.

Cross-reference geometry features with Planet imagery taken over the same dates.
Create Automated Workflows to Download, Trigger, and Notify
Use FME Cloud to pull satellite images on a schedule, in response to a trigger, or to automatically deliver notifications to email, Twitter, and hundreds of other protocols.
Custom Notifications
Get notified when new images are available in your area of interest that meet your requirements, e.g. low cloud coverage.
Scheduled Workflows
Create a schedule to deliver Planet images exactly when and where you need them, and automatically update your map or tile cache.
On-Demand Data Download
Build a data download service so users can automatically integrate data with Planet imagery for their area of interest.
Triggered Actions
Connect your workflow with hundreds of protocols to trigger when and where to download new images.
Inspect Data on an Up-To-Date Basemap (Beta)
See data and its attributes on a color-balanced basemap with minimal cloud coverage using the latest imagery of your area of interest.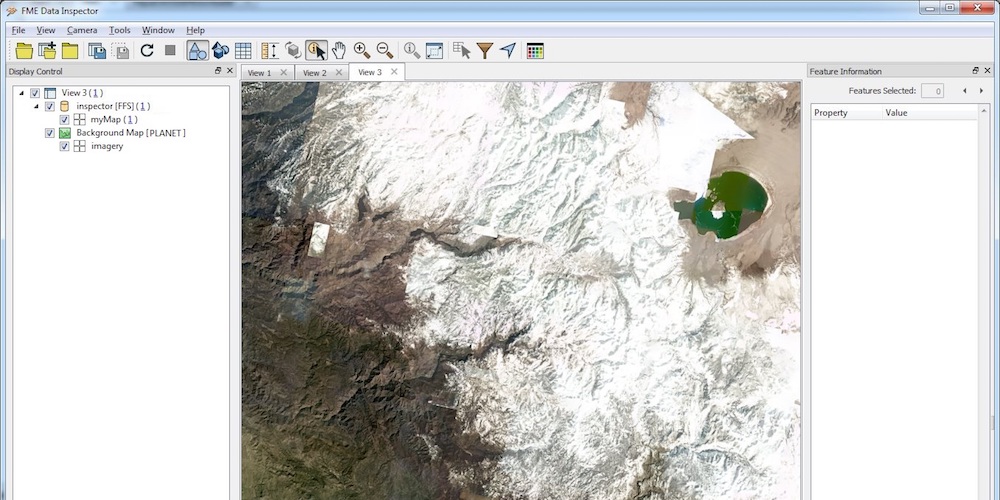 Analysis and Planning Tailored To Your Industry
Satellite maps are valuable for tracking, visualizing change, providing insight, and more. Here are a few examples of how you can use Planet imagery in your workflows.
Government
Track resources, visualize land use trends, and monitor the environment within and around your region. Gain insight for urban planning and infrastructure, predict traffic volume, and mitigate risks.
Agriculture and Forestry
Assess and track vegetation (e.g. NDVI), soil composition, terrain, forest fires, and animal/insect patterns. Predict growth and crop yields, and analyze changing factors over time.
Environmental
Visualize and track changes like algae growth, icebergs, oil spills, weather, volcanic activity, and air quality. Identify harmful activities like illegal deforestation, fishing, mining, and poaching.
Mining and Oil/Gas
Identify earth composition, monitor assets and resources, assess environmental impact, and mitigate disasters.
Media and Humanitarian
Find, see, and monitor large-scale events and crises, including populations, rescue efforts, natural disasters, and war zones.
Business and More
Track assets, visualize patterns, analyze the environment, and predict trends for a variety of business purposes.