Solve Salesforce Interoperability Challenges
FME is a data conversion and integration platform that supports Salesforce and hundreds of other formats and applications including CSV, JSON, XML, Excel, Oracle, Tableau and many more. Without writing any code, create workflows that connect Salesforce with your other systems to eliminate data silos and synchronize data across the enterprise.
Connect Applications Across the Enterprise
Applications across the enterprise shouldn't live in isolation. With FME, you can connect Salesforce with different applications, services, and data formats across your organization. Get real-time access to your Salesforce data using the Salesforce Reader/Writer and APIs to route, transform, and load data from one application to another. With FME, you can discover new insights across your data.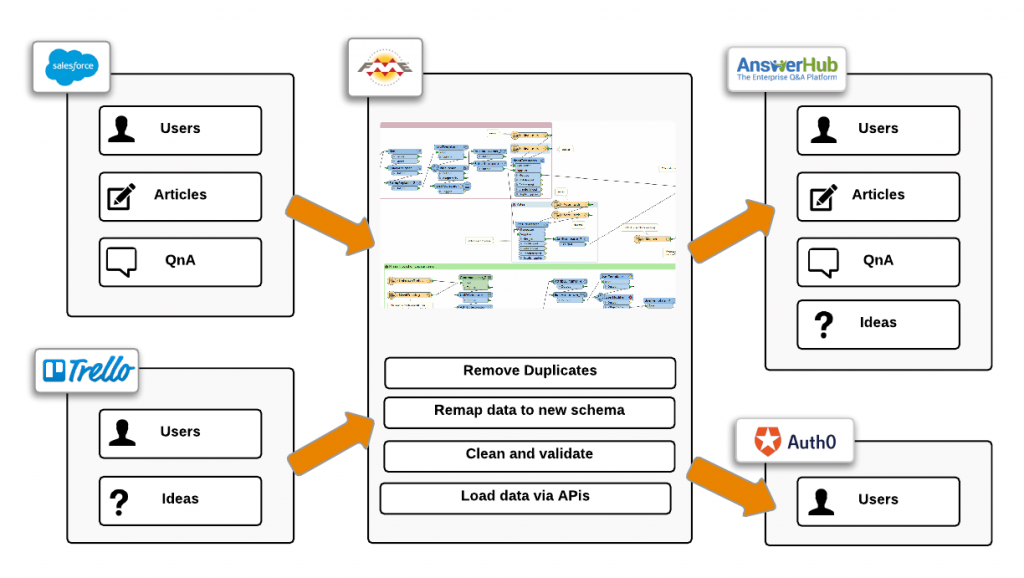 Migrate & Enhance Legacy Systems
Adopting cloud-based services, like Salesforce, has many benefits. However, integrating legacy on-premises systems with cloud-based services can be difficult. With the help of transformers, FME is a flexible, long-term, no-code solution to legacy system migration. FME's transformers allow you to validate and QA/QC your data to ensure it meets your organization's requirements for high data quality.
Automate Enterprise Application Integration Processes
Tired of going back and forth between applications to manually extract data? We've got you covered. With FME Server, you can automate receiving, transforming and remodelling of data between Salesforce and external applications in real-time. Create workflows that run on a schedule so you can dedicate your time towards more important tasks.
---
About Salesforce
Salesforce is a collection of cloud computing solutions developed to assist with customer relationship management (CRM).
Common Conversions
FME lets you integrate many applications and file formats. Here are some of the ways our users convert Salesforce.
Compatibility
The table below outlines how Salesforce is supported by our different FME products, and on which platform(s) the reader and/or writer runs.
Product
OS
FME Desktop
FME Server
FME Cloud
Windows 64-bit
Linux
Mac
Reader
Professional Edition & Up
Writer
Professional Edition & Up
Try FME Desktop
No credit card necessary. Start integrating data today!