A common communication technique is:
Tell your audience what you're going to say

Say it

Tell them what you've said
What am I going to say today? I'm going to say "thank you"!
Thank You!
There you are. I said it. But why? 
It's because we've designated October 27th as FME Community Appreciation Day. Today we're taking a moment to thank all of the users who put effort into the FME Community – whether it's asking and answering questions, suggesting ideas, commenting on articles, or even just interacting with fellow users on a social level.
Yes, even asking questions helps. A community is all about communicating – not just looking up information in a knowledge base – and whether that communication is a question or an answer, it all encourages interaction.
We know a strong community helps our users. It's not only a place where we can help solve your data challenges, but you also learn from each other. You can become more skilled with FME, and more successful in your work and your career. 
But why is a strong community important to Safe, you might ask? Well, the more skilled and invested you are, the more motivated you become; and motivated users demonstrate to the world that FME is more than just a product. That FME is something worth becoming passionate about. That helps us a lot.
So we really, really want to take this opportunity to thank each and every one of you for taking part in our community. Every one of you who uses this site is a rock star.
But, more specifically we want to highlight and reward some of our top users.
Community Heros
Most communities recognize users through reputation and badges. That's good, but to create this list I looked beyond league tables to also include newer members. I wanted to find who had been most community minded since the new-look community launched in July. 
So here's a list of my chosen users – who we want to recognize for their input and enthusiasm – along with their reputation level and a brief biography.
Caracadrian [Enthusiast]

Geodetic engineer at Consitrans and ViaDesign.

Kd [Enthusiast]

Works for GIM in Leuven (Belgium) and a passionate FME user for 6 years. FME Certified Professional.

Danilo_fme [Celebrity]

Director of Solutial Soluções e Análise de Dados. 11 years of experience in FME. FME Certifiied Professional and Trainer.

Oscard [Influencer]

Works for Geograma as a GIS Developer and has used FME Desktop and Server for four years.

David_r [Headliner] [Community Champion]

A fan of FME since 2007. Works as a consultant with INSER SA in Switzerland. 

Olivermorris [Enthusiast]

FME desktop and cloud user for many years. Works predominantly with PostGIS, SQL Server, ElasticSearch to power an open source stack web map solution for oil and gas clients.

Helmoet [Enthusiast]

Works for Vicrea Solutions in Amersfoort, the geographic heart of the Netherlands. Works on energy and natural gas distribution projects.

Redgeographics [VIP] [Community Champion]

Founder and owner of Red Geographics in The Netherlands, also does cartography.

Hkingsbury [Enthusiast]

Works for Abley, an Engineering Consultancy firm in New Zealand. Has a background in Geography and Computer Science and has worked with FME for four years. 

Srg [Enthusiast]

A simply rugged guy and ardent lover of FME from India with 20 years into the world of GIS and FME.

Jdh [Celebrity] [Community Champion]

Has worked with FME for 18 years, the last 10 of which at CAE.

Virtualcitymatt [Celebrity]

Works for Virtual City Systems in Berlin with a heavy focus on 3D, CityGML and BIM. Has worked with FME for 6 years.

Jkr_da [Enthusiast]

Has been working with FME for two years. 

Warrengis [Enthusiast]

Applications Developer for Transglobal Services. FME Certified Professional and FME Server Certified Professional

bwn [Evangelist]
Jlbaker2779 [Influencer]
Davtorgh [Influencer]
Lifalin2016 [Enthusiast]
Deanhowell [Influencer]
Nielsgerrits [Celebrity]
Ebygomm [VIP] [Community Champion]
SigTill [Evangelist]
Itay [Evangelist]
takashi [Headliner] [Community Champion]
So I thank you all. But didn't I also mention a reward?
Prizes!
How can we thank our community for all that you do?
We'd love to shower you with gold, and silver, and precious jewels; it's what you all deserve. But until that becomes possible (shipping gold is really expensive!), we are sending a small gift to the users listed above. Just a little something to show our appreciation for your community efforts.
But what is it? Well, it's more educational than FME badges, but less smelly than FME socks! Our newest swag is: Trading Cards.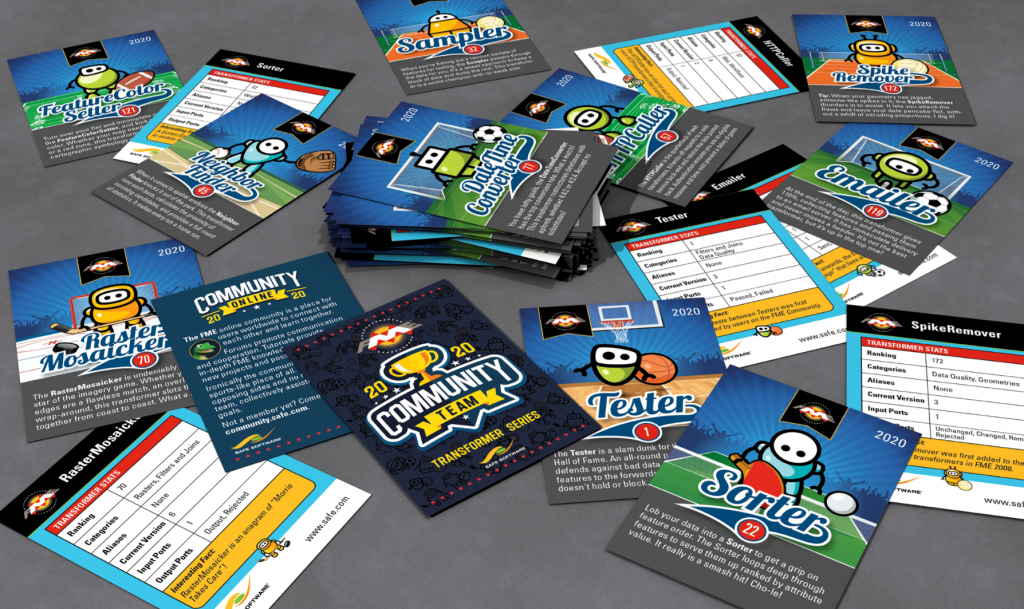 So each of our chosen users will be receiving a set of trading cards in the mail. They're from a limited print run of just 35 copies and even I haven't got a set yet! Talk about exclusive!
Plus, if you're one of our Community Champions, we're adding a few other items, just for you.

The Community Champion badge will look great at the next FME User Conference.
Tell Me More About That Swag!
I'm glad you asked! The trading cards are based on the sports cards that you might have collected when younger (perhaps you're still collecting them)? Our cards have a sports angle, but list interesting facts and statistics about FME transformers. For 2020 there are 16 different cards to collect.
We'd hoped to hand out these cards at conferences and training and similar events, but obviously Covid put a stop to live meetings. We'll still award them occasionally to users for spectacular efforts, like the top community members listed above, so keep contributing!
In case you were wondering, yes, it was a lot of fun coming up with sporting-related FME puns! I hope I can keep the standards up when we create a new set in 2021!
Community Champions
One special group of community users I want to highlight are our Community Champions. These folks kindly gave feedback on our new design, before it launched, to ensure you all get the best experience. They also help to moderate the site, flagging dubious content and alerting us to any general problems. And as if that wasn't enough, they are usually the most prolific in answering FME questions on the site too!
Truly, we can't thank you enough for what you do. So here's a thank you to:
As I Was Saying…
So if I'm following the standard template, I should now remind you what I said in this post. I think you'll have got the message by now, but here goes: 
We love our community and thank you for being a part of what makes FME special.
PS: I suppose I ought to end with a cheesy motivational slogan. After much consideration, this is the cheesiest I could come up with:
There's an "i" in community, but also a "u". After all, it needs both U and I to take part!

Mark Ireland
Mark, aka iMark, is the FME Evangelist (est. 2004) and has a passion for FME Training. He likes being able to help people understand and use technology in new and interesting ways. One of his other passions is football (aka. Soccer). He likes both technology and soccer so much that he wrote an article about the two together! Who would've thought? (Answer: iMark)