Time recently declared that the COVID-19 pandemic has led to "the world's largest work-from-home experiment." Non-essential workers and those lucky enough to be able to work remotely have had to quickly adapt to this new normal. Many people have taken this time to improve their skills and learn, attending webinars, reading, and reflecting. In a recent survey of customer educators, a third of respondents increased the number of students trained live online by a quarter or more compared to 2019.
Here at Safe Software, we've seen great attendance at our webinars and live online training as many of our users take time to improve their skills while working from home. Our partners have expanded their online training offerings. I also recently found out that July 21st, 2020 is the decade anniversary of Safe delivering live online training. As the Manager of Customer Education here at Safe, I'd like to take this important anniversary during a moment of changing learning habits to reflect on the past and future of FME training.
Transitioning to Online Training
Safe Software held its first online training on July 21st, 2010. The anniversary was in danger of passing without anyone noticing, but thankfully my colleague and long-time Safe employee Ryan Cragg recently stumbled upon evidence of our first online course while looking for an old email.
We originally transitioned to online training for a practical reason: one of our main trainers wanted to spend more time at home with their young children instead of traveling to do on-site training. While online training feels commonplace today, we were ahead of the curve: an industry survey suggests only 10% of live training was happening online in 2010. It has since risen to about 15%, and COVID-related demand for live online training is booming.
This shift also reflected larger changes in Safe's business model, as we were expanding our network of partners around the world. They largely took over in-person training and professional services for FME, while Safe focused on building the best product possible and providing excellent customer support.
Over the years we've used a number of techniques and platforms for delivering live training. Our original in-person live training took place over two days and covered the basics of editing mapping files – the XML instructions to the FME engine that still form the basis of FME workspaces (try opening one in a text editor!). It took all of those two days to build a basic translation. Some of our original instructors are still working at Safe – the blog's own FME Evangelist Mark Ireland and our FME Application Experts Manager Mark Stokes. Learners used to do activities using FME characters on transparencies. Does anyone remember this fellow?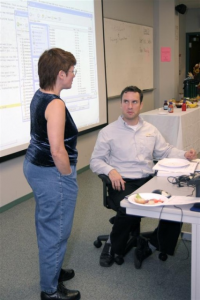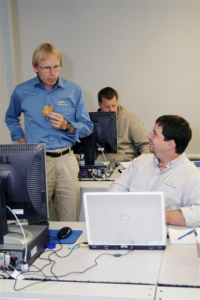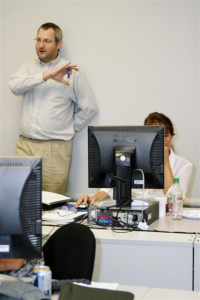 Original instructors Ryan Cragg, Mark Stoakes, and Mark Ireland at the 2006 FME User Conference Training Day
When we started delivering training online, we used the MicroTek platform to provide virtual labs for our students. We switched over to a custom system created by Ryan Cragg in 2011. He created a workflow using FME to create and provision training machines with licensed versions of FME Desktop and Server using Amazon Web Services EC2. We used GoToWebinar as our live training platform. Since 2016 we've had over 5,000 learners attend live online courses.
We can see how far the FME platform has come by looking at what we can cover in a single morning of training today. A brand new user can attend a half-day Introduction to FME Desktop course and learn to convert and transform their data without writing any code! They can inspect and convert their data within minutes of starting.
A New Platform for Online Training
Earlier this year we transitioned to a new live online training platform, Strigo. This new platform lets us deliver training directly in the browser, offering a one-stop-shop for taking FME training.
We are still adjusting to the new platform, but we have found it really lets us connect with our learners more directly. Just like in an in-person workshop, we can join learners in their virtual lab and use a one-on-one video session to troubleshoot any problems they encounter. Technology is enabling us to offer personalized and efficient online training for FME users.
Interested in checking out our new platform? Sign up for a live online course hosted by Safe Software.
The Future of FME Training
Live training has always been an important part of Safe Software's mission. The more people we can turn into FME experts, the better! However, we also want to support this live training with a robust self-serve learning experience. Today's economy demands timely and quick self-serve training that users can take when they have time. The "Netflix-ification" of learning also means our users (rightly) expect a tailored and engaging online learning experience. While users value our live courses, we find that around five times as many users take self-serve training via videos and tutorials than attend live courses.
For these reasons, we are currently developing the FME Academy, a self-serve online learning platform. FME users will be able to take learning paths customized to their skill level and industry to advance their FME skills and earn badges. We are also designing this learning content to help learners use FME to become better data integration specialists, advancing their career by acquiring key skills.
We will be announcing more details about this platform soon, so stay tuned by joining the FME Community and following our Twitter and LinkedIn accounts.

Sam Walker
Sam is the Manager of Customer Education at Safe Software. He has a background in GIS and statistics and completed his Ph.D. doing research on urban environments.