As the global demand for high-tech workers steadily grows, teachers across the Lower Mainland are recognizing the need to equip their students with the tools and skills necessary to thrive upon entering the working world. One local high school in Surrey is responding to this call to action to provide opportunities in STEAM (Science, Technology, Engineering, Arts, and Math) for their grade 11 and 12 students to gain exposure and practical work experience with local organizations located in the Lower Mainland.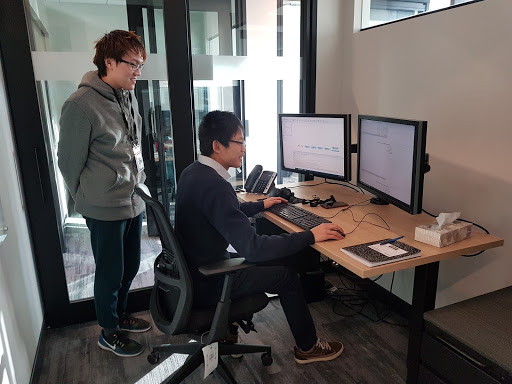 Students pictured in the Safe Software HQ in Surrey, BC.
Earlier this year, Stephen Church, Career Facilitator from Fleetwood Park Secondary School (FPSS), reached out to Safe Software in an effort to promote their Engineering and Computer Science High School Work Experience (WEX) Program — the first of its kind within the Surrey School District. The WEX program is aimed towards offering high school students the chance to apply their academic knowledge in "real world" scenarios, collaborate with working professionals, and build confidence in themselves and abilities. Each student is required to complete approximately 90-100 hours of related work experience during their short-term internship and go through a series of self-reflection activities, plus an employer evaluation, to be graded for school credit.
"It's influential just for [the students] to see how many companies and opportunities there are locally [in Surrey]"
– Brianna Stusiak, Computer Science Teacher at FPSS
The competitive landscape for talent is changing and we're seeing trends in shifting computer science and engineering courses being integrated into high school curriculum to give students a better foundation for success if they decided to pursue further education in STEAM.
Brianna Stusiak, Computer Science Teacher at FPSS, shared that through this program, students are able to gain insight into how many companies and opportunities there are within our local tech sector in BC. Stephen and Brianna have placed an emphasis on finding opportunities for students closer to home in Surrey, which is what drew her to our team at Safe Software. Alongside Safe, several other organizations are jumping in on this opportunity, such as Fraser Health, FortisBC, Conquer Experience, and municipalities like City of Surrey and City of Langley.
In November 2019, Safe welcomed two grade 12 high school students to our Development and Quality Assurance teams for a 3-week unpaid work experience internship. Our students, Ryan and Jerry, were given the full onboarding experience, complete with a new hire orientation session with an overview of the organization and our facilities, and were given their very own private offices like any employee or co-op student at Safe!
Paired with an experienced Safe employee as their day-to-day supervisor, our students got to work on specially crafted projects and tasks to leverage the Python and testing skills they've learned at FPSS. It was an incredible experience to be able to witness the growth and admire the willingness to learn of these young individuals.
"The best experience I've had during my time at Safe Software is the satisfaction and accomplishment of completing a project. It was functionality-wise and visually the best I had ever made, and I was given the honor of showcasing it to the members on my team… I now understand how closely people work together at work, and the role cooperation plays within a tight network of co-workers. Moving forward with this valuable work experience, I feel a lot more confident in approaching future careers and interviews. With that being said, I encourage other high school students to go out and seek opportunities like this, as it will prove to be valuable." – Ryan

"My favourite part about working at Safe is the welcoming atmosphere that greeted me every morning. Other employees, regardless of the department they worked in, would always smile and greet me in the common areas. Even though my work experience only lasted three weeks, I felt as accepted as any other employee… If this opportunity is open to any other high school students, I highly encourage them to take it. Along with getting practical experience working in the tech industry, I was able to find connections between the things I was tasked to do at work and the things that I had learned in school. This gave me a clear picture of what school had been preparing me for, and I developed a lot more interest and motivation in my studies as a result." – Jerry
As a large supporter of Co-operative Education and Work Integrated Learning programs at local post-secondary schools, we are excited to see where high school programs, similar FPSS's WEX Program, take off over the next few years to support more students interested in pursuing careers in technology and to help grow BC's flourishing technology sector!
Interested in learning more about our experience? Comment below or email us at careers@safe.com. To learn more about life at Safe Software, visit safe.com/careers.

Samantha Ng
Samantha is the HR Generalist at Safe Software who is passionate about building connections and emphasizing the "human" aspect of Human Resources. Over the course of her early career, she's gained diverse experience working in post-secondary, professional services, and high-tech organizations to build her repertoire of skills in recruitment, payroll, employee relations, and more. Currently, she oversees the recruitment function at Safe where she helps to bridge people and their potential in the growing tech sector in Surrey, BC.