As Amazon Web Services offers better price-performance with new ec2 instance types, we continue to upgrade the instance types available in FME Cloud, the hosted version of FME Server.
At the end of 2017, Amazon Web Services released the next Generation of General-Purpose EC2 Instances. This spring, we upgraded all FME Cloud instance types except Starter to the new M5 family. As part of that upgrade, Premium and Enterprise instances got more than a like-for-like switch, with drastically larger instance sizes delivering a lot more compute for your money. Starter FME Cloud instances still use T2.medium ec2 instance types.
| | | |
| --- | --- | --- |
| | Old Instance Type | New Instance Type |
| Starter | T2.medium (2 cores, 4GB RAM) | T2.medium (2 cores, 4GB RAM) |
| Standard | M4.large (2 cores, 8GB RAM) | M5.large (2 cores, 8GB RAM) |
| Professional | M4.xlarge (4 cores, 16GB RAM) | M5.xlarge (4 cores, 16GB RAM) |
| Premium | M4.2xlarge (8 cores, 32GB RAM) | M5.4xlarge (16 cores, 64GB RAM) |
| Enterprise | C4.4xlarge (16 cores, 30GB RAM) | M5.12xlarge (48 cores, 192GB RAM) |
Performance of M4 vs M5 Instance Types
For Standard and Professional instances, we simply upgraded from the M4 to the M5 generation (read more here), sticking with the same instance family.
M5 instances are designed for demanding workloads and deliver better performance than M4 instances on a per-core basis, while the pricing remains unchanged.
M5 instances are powered by 2.5 GHz Intel Xeon Scalable processors and deliver up to 14% improvement in price/performance compared to M4 instances. M5 instances also offer up to 25 Gbps of network bandwidth and up to 14 Gbps of dedicated bandwidth to Amazon EBS. During our tests with FME Cloud instances, the use of M5 instances showed increased read/write performance by more than 50% (m4.large vs. m5.large with 2TB disks tested).
Benefits for Premium and Enterprise FME Cloud Instances
Premium and Enterprise instances were not only upgraded to M5, but also increased in size. As you can see from the chart below, they offer a lot more computing power than the M4 instances, leading to a significantly better price/performance ratio than their predecessors.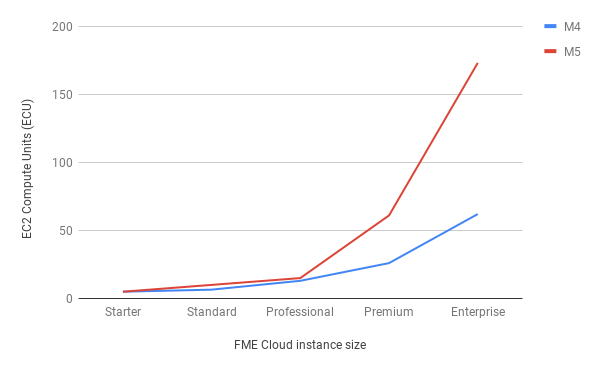 For details on EC2 Compute Units (ECU), check out this Amazon Web Services FAQ.
The main driver for this change was to increase value for FME Cloud users with top-end instances. The higher number of CPUs for Premium and Enterprise instances allows you to run FME Server with potentially more than 100 engines, as long as you keep an eye on FME Cloud metrics, for workflows that can utilize a large number of engines. At the same time, the new instances offer memory from 64GB to 192GB for memory-intensive workloads.
The amount of ECUs has increased by almost 100% for Premium and even more for Enterprise FME Cloud instances. This makes both instances ideal candidates to run one-shot workflows that would require hardware you do not want to purchase or maintain in your own infrastructure. For recurring, high-demand jobs, these instances can also add value in an event-driven architecture, taking advantage of AWS Lambda the FME Cloud REST API.
How to Start Using the New Instance Types
To get an FME Cloud instance using the new instance types, just launch a new instance in the FME Cloud Dashboard.
If you have already instances in your FME Cloud account and you want to transition them to the new instance types, migrate your FME Server to a newly launched FME Cloud instance.

Gerhard Fischl
Gerhard is a FME Cloud Technology Expert at Safe Software. He is one of the top soccer players during lunch time soccer and is an avid bicyclist.