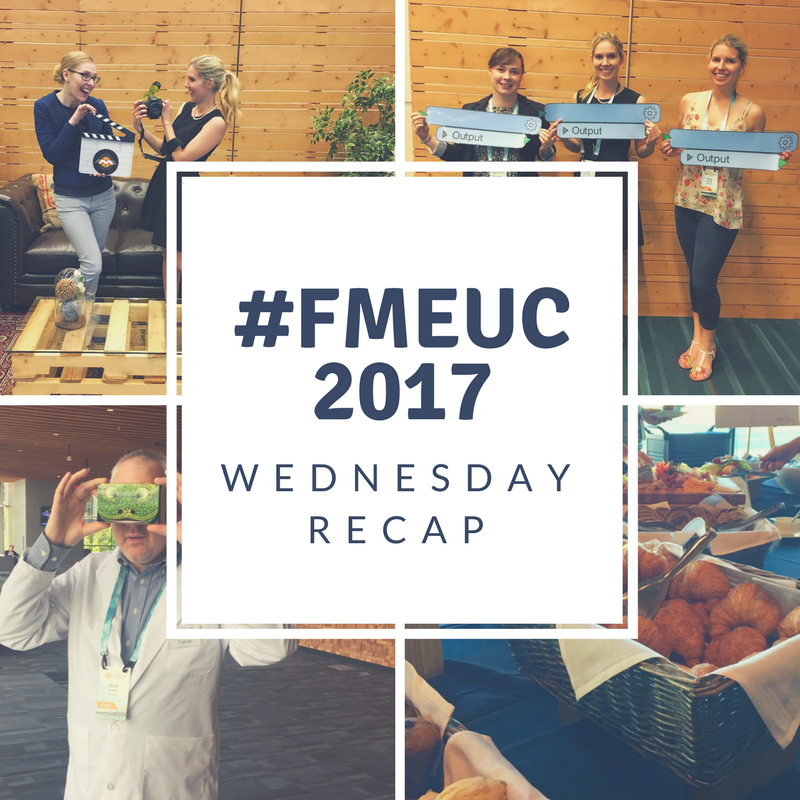 We're thrilled to welcome hundreds of FMEers from around the world to Vancouver for the next three days. And what a perfect week it is to be here. After a long and snowy winter, we're graced with this beautiful weather just in time for everyone to visit! Hopefully you get a chance to explore the city before heading home.
We have a full week planned of sessions, workshops, social events, and good food and drink. Most of the Safe Software team will be here at some point, and we're eager to talk to customers and partners about all the cool stuff you've been doing with FME and any ideas you have for FME 2018 and beyond.
Yesterday was a full day of pre-conference training, wrapping up with a soccer game and pub night. Today is officially Day 1 of the FME UC 2017. Here's a recap of what happened.
General Session: Data Transformation is Key
After opening remarks from the Deputy Mayor of Vancouver, Safe co-founders Don and Dale kicked off the conference with an inspiring look at everything people are accomplishing with data all over the world. The widespread use of GPS devices and sensors, rapidly improving 3D printing, and unprecedented quality of remote sensing satellites are just a few ways we're seeing incredible applications of spatial data.
#data is the most valuable resource say @donatsafe and @DaleAtSafe in their opening of #FMEUC pic.twitter.com/NhoZaqCI18

— Christian Heisig (@CHatCT) May 24, 2017
Don and Dale discussed how data transformation is key to all of this incredible technology. Data is just data until you do something with it. Transformation is vital to decision-making, to understanding, and to shaping our world.
Think of raw data as oil, cloud systems as the oil refinery, and apps/databases/GIS/BI as the array of petroleum products. FME is the pipe that gets raw data to the refinery and to all of those products.
FME users are the pipe fitters of the world #FMEUC pic.twitter.com/jbRzJi3hrl

— David Runneals, FMEP (@RunnealsGIS) May 24, 2017
That means FME'ers are the data pipe fitters of the world. You control the flow of data from source to destination and everything in between.
Don & Dale call #FME users pipeline builders for data #FMEUC @donatsafe @DaleAtSafe @SafeSoftware pic.twitter.com/nRV36CuVcH

— Benjamin Quest (@benjamin_quest) May 24, 2017
As the data pipe fitters of the world, everything you do inspires us at Safe. You shape the future of data, of technology, and of FME.
Announcing FME Home License
Safe is big on giving free licenses to students and non-profits. Over the last year, we've given away $11.7 million worth of FME licenses to education programs.
Based on overwhelming user request and our goal to make FME widely available for non-commercial use, we are pleased to announce FME Home License. Learn more and apply for your free FME Home License.
FME Home Use program announced at #fmeuc – apply for your free license at https://t.co/2l77hjiCVy pic.twitter.com/A5d57mpxH7

— FME UC 2021 (@fmeuc) May 24, 2017
New FME Server Trials
On the same lines, if you want to try FME Server but can't set it up on your own machine, we have a new FME Server trial program. Sign up for FME Server and get a free trial on a cloud instance so you can start playing with it right away.
FME Server trial for users that can't install applications or home users #FMEUC pic.twitter.com/sFzQ5OeLjI

— David Runneals, FMEP (@RunnealsGIS) May 24, 2017
Chris Hadfield Keynote: Managing Complexity and Change
.@Cmdr_Hadfield on managing complexity and change – "Change is about risk. Anything worthwhile in life is all about risk."

— FME UC 2021 (@fmeuc) May 24, 2017
Col. Chris Hadfield delivered an insightful and engaging keynote relating his experiences to the importance of quality data, taking risks, and "visualizing failure" in order to achieve success.
"Visualizing failure is the only way you would be able to achieve something as complex as space flight." 🚀🌌 – @Cmdr_Hadfield #FMEUC pic.twitter.com/WH1odv4MJr

— Samantha Ng (@samxng) May 24, 2017
Visualizing success will get you nowhere, he said. You need to think "what could go wrong and how can I beat that?" (or if you're literally hurtling through space, "what's the next thing that's going to kill me?") If you don't know how to solve the problem yet, figure out all the data and be ready for it. Then do it again for the next challenge.
"You learn the most when things go wrong. Initial success teaches you nothing." – @Cmdr_Hadfield

— FME UC 2021 (@fmeuc) May 24, 2017
It was interesting to hear Chris Hadfield reiterate what Don and Dale said: "Data is just a bunch of noise until you do something with it."
A #spacecraft is just a bunch of data says @Cmdr_Hadfield at #FMEUC pic.twitter.com/fPMD8biis8

— Christian Heisig (@CHatCT) May 24, 2017
"For an astronaut, earth is just a helpdesk" – C Hadfield at #fmeuc

— Ulf Månsson (@ulfme) May 24, 2017
Sessions, FME Doctors, Video Booth, and More
After the general session, we broke into workshops and 5 tracks of user presentations. Here's where we got to learn about all of the awesome things FMEers around the world are accomplishing. We'll be sharing those presentations on our website after the UC is over so stay tuned for that.
The FME Doctors (i.e. our fantastic team of developers and experts) were on call all day answering questions and accepting ideas for future FME releases. Bring your laptops and your questions because they'll be here all day tomorrow and Friday, too!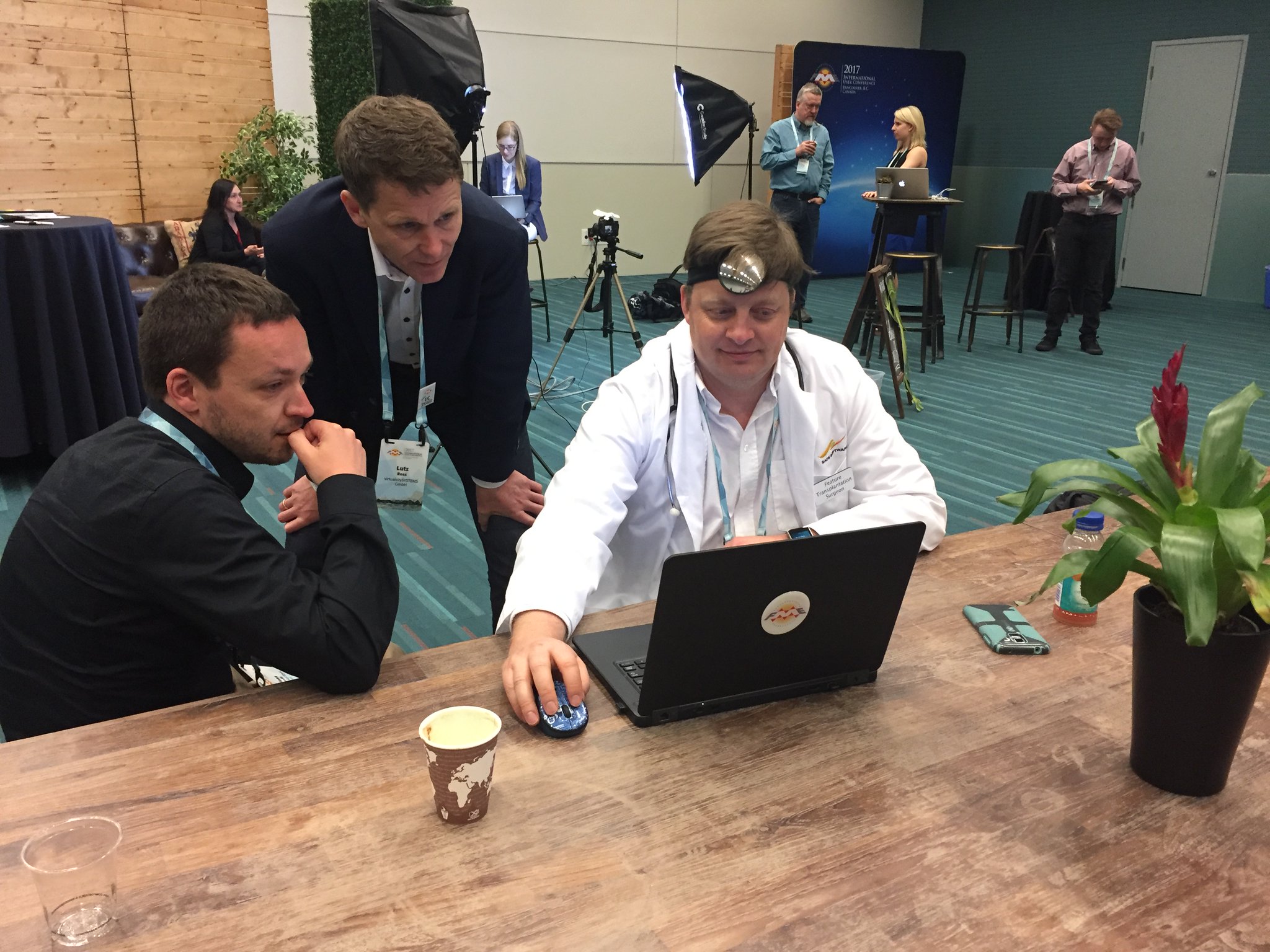 We also had a steady flow of conversations at the "I ❤️ FME" Video Booth, so that was awesome. Make sure you drop in at some point over the next two days. Tell us what your favourite transformer is, what you're currently working on, what you love about FME, why you have strong feelings about a certain data format, or anything else you want to discuss.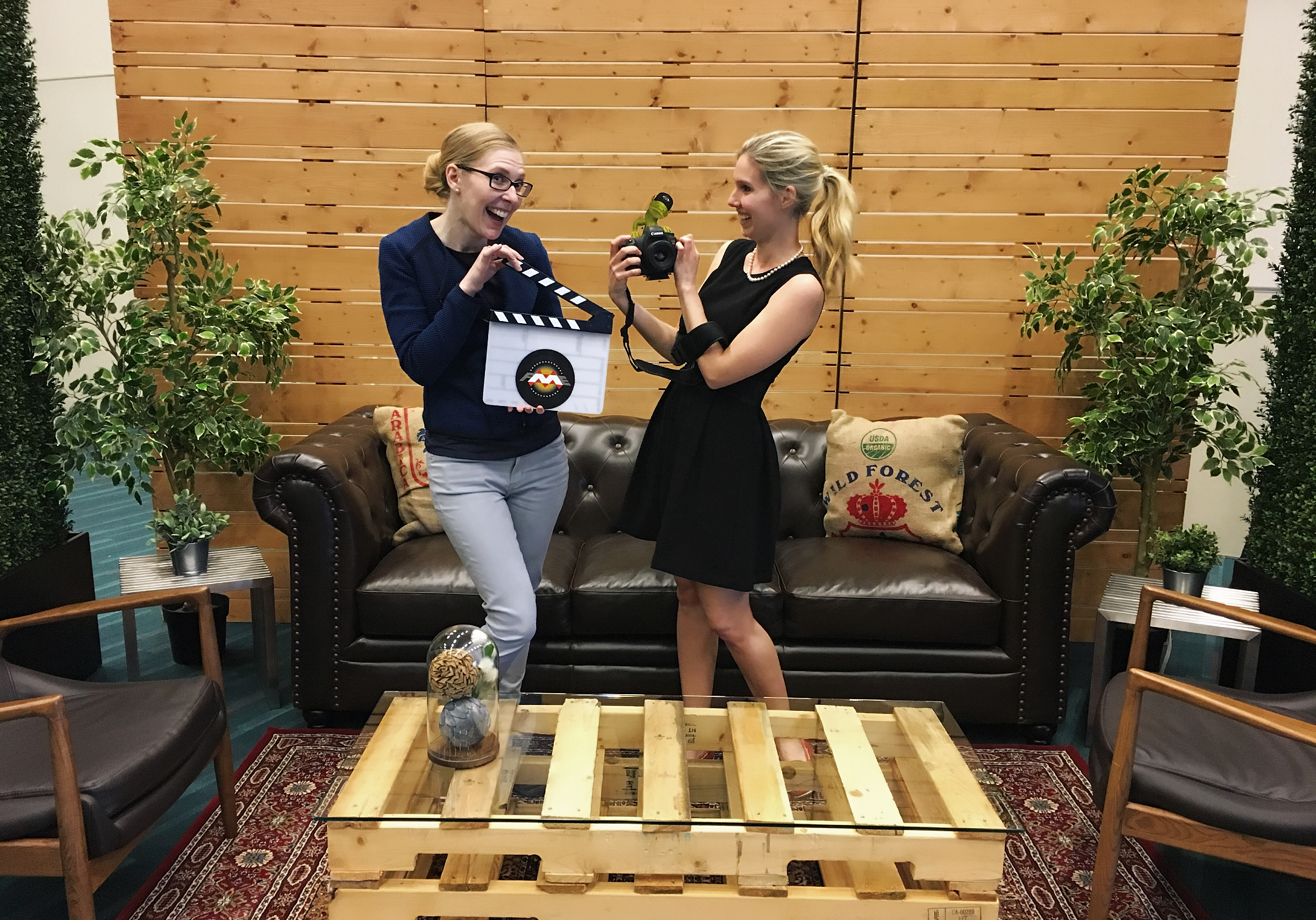 You can also get your picture with your favourite transformer (or just make up your own transformer).
Having fun at the FME UC coffee shop #fmeuc pic.twitter.com/XY3sfOC3Sb

— Wendy Amy (@Wendy_MNC) May 24, 2017
On second thought, maybe this Virtual Reality contest was a bit of a hazard:
.@FMEEvangelist exploring a VR world with his fancy new goggles. Have you found any clue stations yet? https://t.co/qb2mqjSFxh pic.twitter.com/WYcduIDo9x

— FME UC 2021 (@fmeuc) May 24, 2017
*
It's about time to head over to the evening social. I hear Darth Vader and a Stormtrooper will be making an appearance.
Until tomorrow! Follow @fmeuc and the #fmeuc hashtag for events as they happen.

Tiana Warner
Tiana is a Senior Marketing Specialist at Safe Software. Her background in computer programming and creative hobbies led her to be one of the main producers of creative content for Safe Software. Tiana spends her free time writing fantasy novels, riding her horse, and exploring nature with her rescue pup, Joey.