Okay. That evening social though. If you need one reason to come to the next FME UC, let that be it.
This is not the DDR you're looking for pic.twitter.com/KDDwzfJxSY

— FME UC 2021 (@fmeuc) May 25, 2017
Running whack-a-mole – winner gets the data #fmeuc social pic.twitter.com/gE5UxrZYem

— FME UC 2021 (@fmeuc) May 25, 2017
Darth Vader, acrobats, cotton candy, room full of awesome games, green screen photobooth, virtual reality, and oxygen bar.
I can't even…..
It might be the oxygen talking, but this event is amazing.
#fmeuc pic.twitter.com/0qCVijfXrc

— Cyphers ☁️ @☕️ (@scyphers_) May 25, 2017
Today we woke up extra early and ran around the seawall. Ha ha, just kidding. Some people did. I was not one of them.
Day 2: Running the seawall before running FME workspaces #FMEUC pic.twitter.com/zzTy8Rk6zW

— FME UC 2021 (@fmeuc) May 25, 2017
Jan Bliki: European Environment Agency + FME Server
Our keynote today was Jan Bliki, data expert at the European Environment Agency. Since bringing FME into the EEA in 2013, they've grown to have among the largest FME Server installations.
11000+ jobs per day at EEA, busiest FME Server in the world? 😳 #fmeuc

— Hans van der Maarel (@redgeographics) May 25, 2017
Jan discussed his work with the EEA, handling data flows with FME and managing eighty datasets covering thirty three countries in Europe. Their small team handles large and complex datasets, and their workflows cover every possible problem you can imagine on spatial and tabular aspects.
Mr Jan Bliki showing amazing stuff with FME and Office365. #fmeuc pic.twitter.com/7IgD0biIuV

— FME SWECO (@FMEatSWECO) May 25, 2017
The @EUEnvironment showing their workflow to get data ready for Tableau. #FMEUC pic.twitter.com/tKgUTc7ejp

— Kent Marten (@datakmart) May 25, 2017
The EEA employs FME Desktop, Server, and Cloud to make this not only manageable, but also very successful for data production in Europe.
"We're big fans of FME Server, because at the end of the day we can go home and relax." @Janbliki pic.twitter.com/BiOdkHevmV

— FME UC 2021 (@fmeuc) May 25, 2017
Fireside Chat with Don and Dale
I had the pleasure of hosting a fireside chat with Don and Dale this morning, where I got to spend 45 minutes asking them questions coming in live from the audience.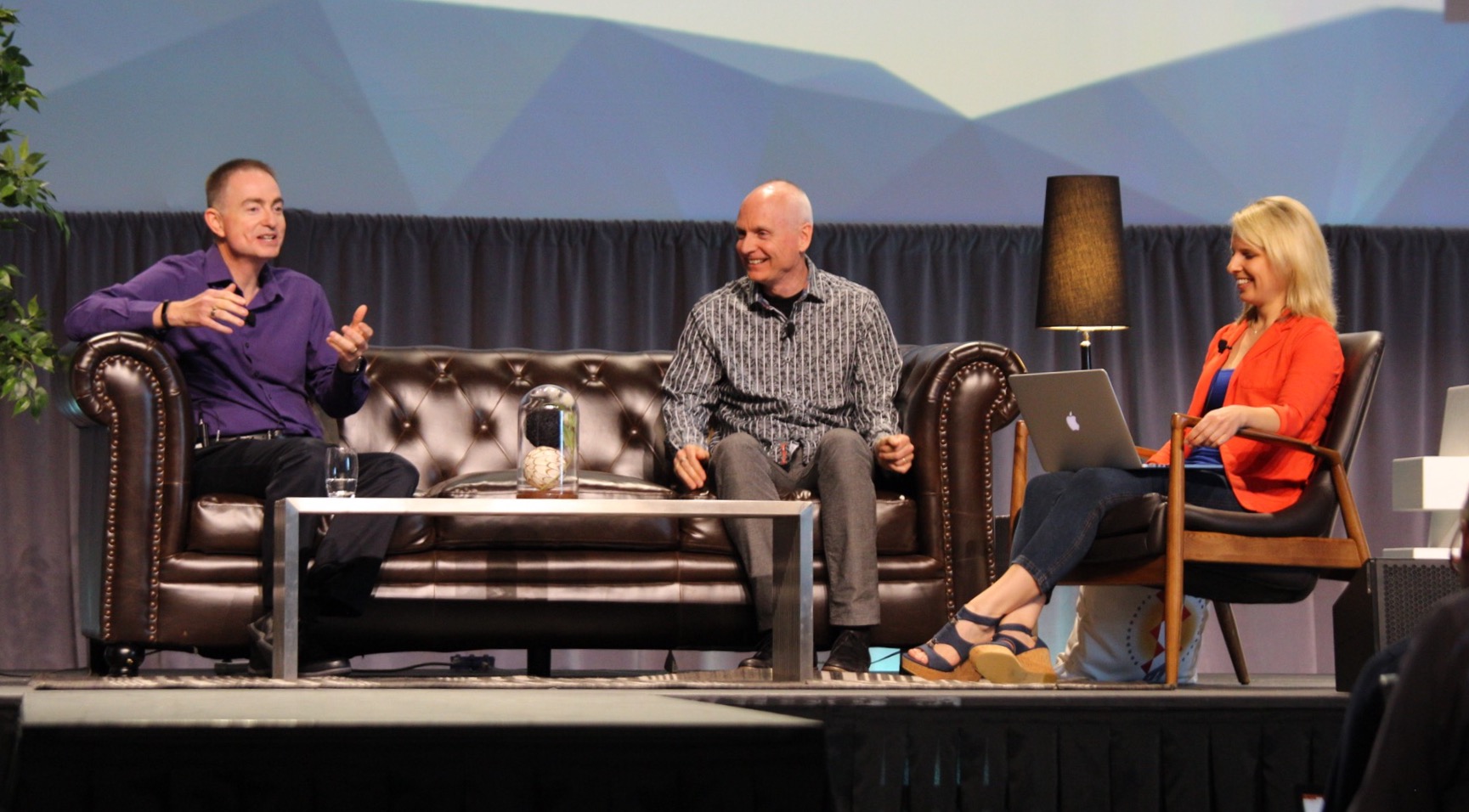 We covered everything from what's coming in FME to the challenges of running a company to who drives a faster car.
In a fight of @shapefiIe vs @XMLFile, @DaleAtSafe says Shp wins, @donatsafe says xml wins. #FMEUC

— David Runneals, FMEP (@RunnealsGIS) May 25, 2017
Sessions, FME Doctors, Video Booth, and More
Breakout sessions continued to be inspirational and full of amazing feats of data wrangling. In the social room, the day was full of more FME Doctoring, videoboothing, and photoboothing.

Going crazy with my favourite transformer @fmeuc. Getting pretty messed up here with all these awesome people and wonderfull comunity pic.twitter.com/8at1xZpcHw

— Lars de Vries (@larsdevries) May 25, 2017
Snap a photo with your favourite transformer. Photo booth opens at 10:30am in room 110 pic.twitter.com/X8RjbKOzjA

— FME UC 2021 (@fmeuc) May 25, 2017
If last night's social wasn't enough, tonight we have a Hackathon! This is the chance for attendees to show off their FME skills and work together to build something awesome. The challenge is to build something for earth observation. Can't wait to see what you all come up with!
Keep following @fmeuc and the #fmeuc hashtag for events as they happen.

Tiana Warner
Tiana is a Senior Marketing Specialist at Safe Software. Her background in computer programming and creative hobbies led her to be one of the main producers of creative content for Safe Software. Tiana spends her free time writing fantasy novels, riding her horse, and exploring nature with her rescue pup, Joey.