Turns out you guys can do a lot with FME in 3 hours — especially when fuelled by pizza and beer. My partner in crime @mapgirll tweeted all the Hackathon projects earlier and will post a recap here on the blog soon, so stay tuned for that.
Hackathon time in #FMEUC pic.twitter.com/7EsRd2erC5

— xuheng (@xuhengxx) May 26, 2017
See our project at #FMEUC Hackathon 2017, using FME to book meeting rooms in Office 365 calender using QR codes. https://t.co/CVpgri0fIb

— Henrik Thorén (@ThorenHenrik) May 26, 2017
The #FMEUC Hackathon group! Amazing to see what they built in a few short hours. Thanks @SwecoSweden for sponsoring pic.twitter.com/QyKejydQII

— FME UC 2021 (@fmeuc) May 26, 2017
Awards in FME Excellence
We awarded our partner of the year, con terra, and our top users in the FME Community. Thank you all for your amazing work and influence!
And then this happened.
Happy 25th birthday Shapefiles. #fmeuc pic.twitter.com/aSMMMMHjfF

— Robert White, GISP (@K0RCW) May 26, 2017
Safe gave a lifetime achievement award to a data format that has made outstanding contributions to the industry for 25 years. Congratulations, Shapefile.
Apple Watch Innovations with Ulf Månsson (SWECO)
Turns out you can use the Apple Watch in conjunction with the FME Server Notification Service for all sorts of interesting location-based data. In Ulf's demo, he took inventory of various locations of clues for our Virtual Reality Contest. He just found the clue, pushed a button on his Apple Watch, and the notification was picked up by FME Server and added to a map. Nice!
@ulfme showing the smallest #FME powered app running on Apple Watch. #fmeuc pic.twitter.com/uurYQrlb7f

— Mikael Månsson (@MadMansson) May 26, 2017
Sneak Peeks: FME 2018 and Beyond
We brought our developers on stage to demo what they've been working on. This was super cool — even many of us non-dev Safers were astounded to see what they've been doing.
First we got a peek at what's coming soon in FME 2017.1 (stay tuned for a blog on that). Then we reached beyond this release to give you a sneak peek at what's in beta for the future.
Soon #FME will be able to write to PowerPoint and Word. Looking great!! #FMEUC pic.twitter.com/88bJojRAUB

— Jeroen Stiers (@JeroenStiers) May 26, 2017
I got some pipe upstream tracing videos that I could process for this! #fmeuc pic.twitter.com/zrWPIPzLCl

— Carlos Silva (@ArcVancouver) May 26, 2017
FME Dark Mode! You saw it here (at the #FMEUC) first! pic.twitter.com/4wst3VhIoo

— FME Evangelist (@FMEEvangelist) May 26, 2017
Wow, the #FME Workbench of the future looks very exciting! Can't wait for it!#FMEUC pic.twitter.com/ZiMwkYnu7w

— Christian Heisig (@CHatCT) May 26, 2017
More wow's!! #FME Workbench in a Browser. #FMEUC pic.twitter.com/KwMKZvxrhN

— Christian Heisig (@CHatCT) May 26, 2017
Workflow automation for FME Server notifications – with built in workspace viewer #FMEUC #fmefutures pic.twitter.com/FhSTvJWIak

— The Locationologist (@DARKspatialLORD) May 26, 2017
Some of the most exciting futures projects I've seen in 17 years working with #FME. Thanks @SafeSoftware for staying out in front! #FMEUC

— David Eagle (@david_eagle) May 26, 2017
Check @fmeuc and the #fmeuc hashtag for the full stream of events this week, including social events, breakout sessions, and #FMESocksFriday.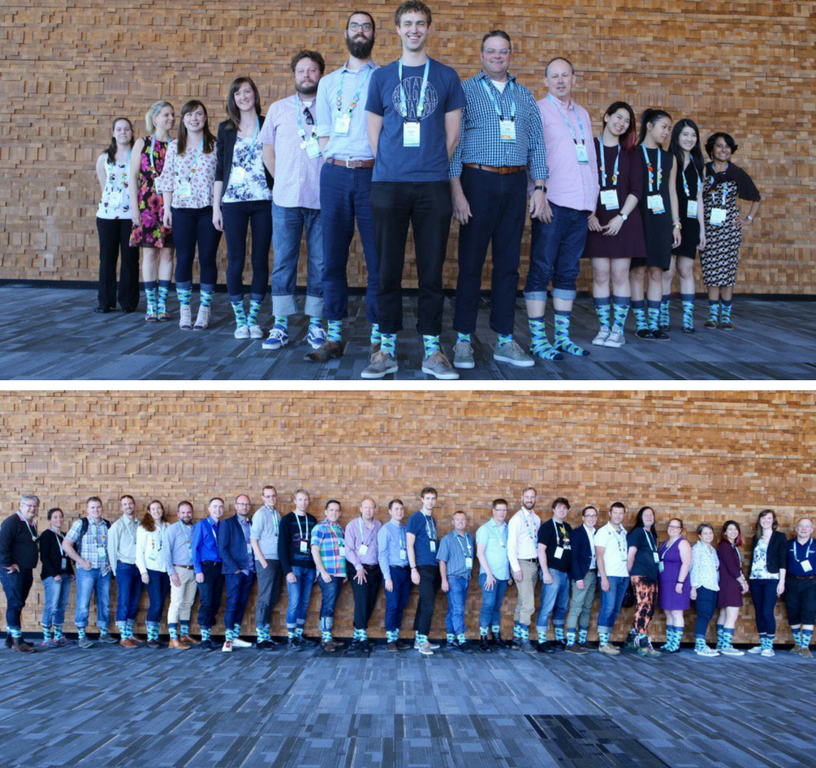 Thank you all so much for joining us over this amazing week. If you weren't able to make it out to this FME UC, we sincerely hope you can come to the next one. We promise tons of learning opportunities, networking, and an all-around good time.
I mean, I knew this week would be fun, but I had no idea just HOW fun. Stay in touch — and on behalf of the team, we look forward to seeing all of you again very soon.

Tiana Warner
Tiana is a Senior Marketing Specialist at Safe Software. Her background in computer programming and creative hobbies led her to be one of the main producers of creative content for Safe Software. Tiana spends her free time writing fantasy novels, riding her horse, and exploring nature with her rescue pup, Joey.