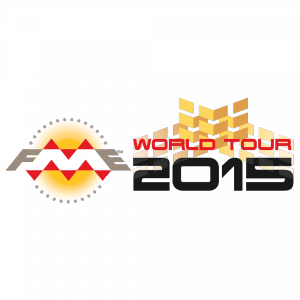 The FME World Tour 2015 kicked off today in beautiful Vancouver, BC. About 100 people attended the event in person, and FME users across the globe tuned in to the morning's online broadcast. Over the coming weeks, Safers will be on the road visiting 60+ cities and meeting thousands of FME users worldwide.
Below is an overview of today's event. Minus all the parts where we gorged on delicious food and coffee.
Be sure to check out the FME World Tour stop in the city nearest you! For those of you who can't attend, keep checking back because we'll be posting presentations on our website as they happen.
Opening Remarks
Safe co-founders Don and Dale opened the day with a few words on "Why we do what we do". They discussed Safe's overall goal: enabling you to connect, transform, and automate your data.
"You should be able to use your data wherever, however, and whenever it's needed."
They introduced the (fantastically named) FME Cool Wall and encouraged people to vote for their favourite FME enhancements. In essence: is your idea 'cool', 'uncool', or 'sub-zero'?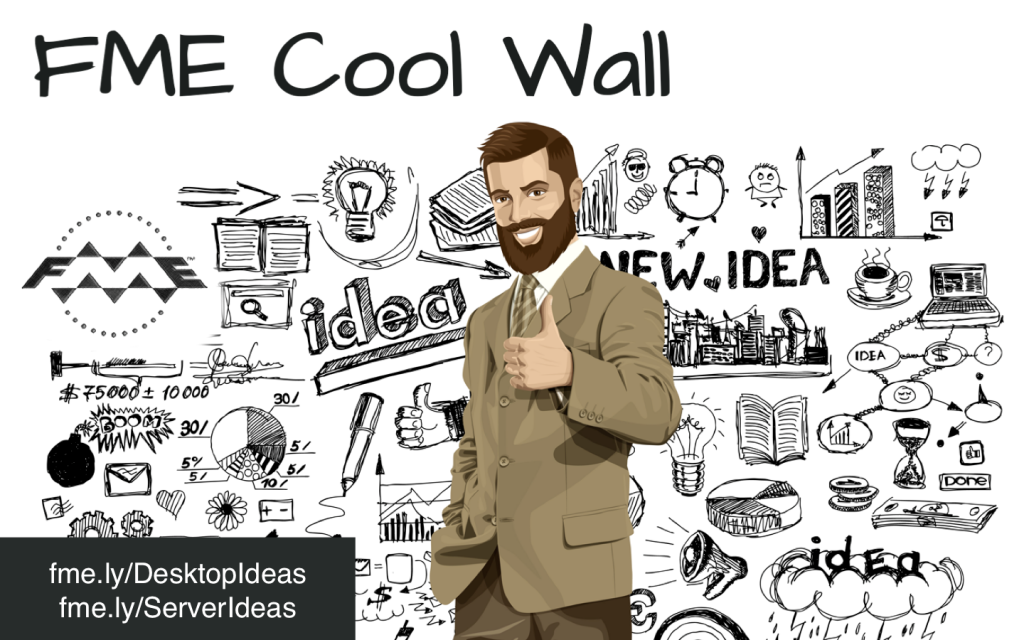 In addition to physical FME Cool Walls at the world tour stops, you can visit our online versions at http://fme.ly/DesktopIdeas and http://fme.ly/ServerIdeas.
FME Overview
We started with a live demo of FME and its latest enhancements, like dynamic feature counts, run with full inspection, the history tree, and the newest FME Data Inspector background maps. Mark demonstrated building a workspace that integrates various data sources and outputs a KML file showing radiation levels.
FME Stories from Around the World
We then launched into a series of 5-minute demos outlining the awesome things FME users are accomplishing.
The State of Arkansas sought to improve the usability of their data portal and migrate to the cloud. They used FME Cloud to process several terabytes of vector and raster data, and migrate it to AWS RDS and S3. The advantages of FME Cloud in their words: "stability, security, simplicity, and price".
Alliander created a repeatable workflow that migrates Oracle Spatial and Esri Geodatabase to SAP HANA. This migration process was made 2-3 times faster with FME.
The Weather Network needed to produce web map tiles from a worldwide forecast model. This included the time-sensitive task of regenerating 880,000 raster tiles every 12 hours. They used FME Cloud to dynamically provision server capacity, which resulted in enormous cost savings.
The Thames Tideway Tunnel needed a reliable, repeatable method to translate 3D model data between Bentley MicroStation and Esri City Engine. They developed a workflow integrating 3D and CAD data, using Collada as an interim format.
High quality Autodesk Revit models of George Washington's home were processed by the ArcGIS Data Interoperability Extension (powered by FME technology), This BIM to GIS workflow resulted in incredibly detailed models.
Ordnance Survey needed a synchronised dataset representing a Digital Surface Model (DSM) and Digital Terrain Model (DTM) of the same area. They solved this by using FME to create point clouds from rasters.
Williams developed a risk model to predict pipeline leaks for thousands of miles of pipeline across the United States. They used FME in a Spatial Decision Support System—essentially a set of huge workspaces involving many disparate sources, a lot of SQL code, and complex risk calculations.
Sharper Shape uses FME's LiDAR capabilities to create optimized flight routes for unmanned aerial vehicles (UAVs), as well as optimized vegetation management.
Irish Water uses FME to integrate and migrate 80,000 km of pipe and hundreds of thousands of point features to ArcGIS Water Utility Data Model.
"This scale of project with this timeline would not be achievable without FME."
– Patrick Daly, Asset Register & Data Aggregation Specialist, Irish Water
Gobierno de La Rioja created a multi-level tile cache generation engine. They use FME to integrate various raster, vector, and text sources, then use FME's Mapnik capabilities to create high quality cartographic maps, and serve them as web map tiles.
FME In Action
The state of the cloud
Stewart, our cloud expert, gave a talk on cloud architecture. He outlined some advantages of the cloud. Getting data into the cloud is as slow as your internet connection, he explained, but moving data around once it's in the cloud is fast: ~20MB/s within region, ~2MB/s between regions. Stewart discussed several AWS options: S3, Aurora, RDS, SQS, and Lambda, noting the benefits of each and how they compare to other on-premises solutions.
.@StewartAtSafe on AWS Lambda: "this is going to be a game-changer". Check out his blog on the topic: http://t.co/HJMKU09uhd #fmewt

— Safe Software (@SafeSoftware) April 8, 2015
Cloud-based mapping services
Incorporating cloud-based mapping services is important for location intelligence. Laura demonstrated how to leverage cloud-based mapping services by consuming services, applying basemaps, creating mashups, and publishing datasets.
Real-time data
Aaron took the stage to talk about two types of real-time data: event/notification based (lower frequency), and continuous data stream (up to thousands per second). He outlined the FME Server workflow, and demonstrated an automation scenario where an email triggers FME to process the email's attachment and validate its data. He also showed a data stream demo where we could see messages appearing and moving on a map. Check out the FME Server developer playground to try out a bunch of automation scenarios for yourself.
Optimizing performance of FME workspaces
"Why do we use FME? We use FME because it saves time."
Don demonstrated how to turn on FME profiling to get a spreadsheet telling you exactly where your workspaces are spending time. The idea is that this will help you optimize your workspaces and save even more time in the long run.
FME User Presentations
Anonymizing Addresses
Heidi Lee of the RCMP discussed a workflow for anonymizing addresses of property crime. With FME, the Nanaimo RCMP is able to "provide the public with property crime information while still maintaining the privacy of those individuals."
"The anonymization process took 30-45 minutes. With FME, it takes us 2 minutes."
Field Mapping Wetlands
Rob Knight and Pete Finch of the Community Mapping Network discussed how FME Server is used for field mapping wetlands. They showed their iOS app and explained how FME Server's notification service works on the back end. They set up a notification workflow to trigger a workspace upon receiving an email with a CSV attachment.
Generating Dialogs with FME GUI Directives
Jim O'Leary of the City of Vancouver discussed an advanced use of FME GUI Directives. He demonstrated how to display a dialog box in the middle of your FME translation, whether to display a message, force the end user to make a choice, or other potential scenarios.
Streamlining a Complex GIS Workflow
Ted Norcott of FortisBC Energy discussed how he condensed 7 workspaces and several hundred transformers into one streamlined, automated GIS workflow. This powerful workspace translates Smallworld GIS to GreGG Network Analysis. Using FME Server, they now have an automated self-serve process on demand, and a two-way connection between Smallworld and GreGG.
FME in Action
Following the user stories, more of FME's latest enhancements were demonstrated.
First, Robyn outlined a few great improvements to database handling. Named Connections, for instance, are a big time-saver in letting you pre-define the database connections you commonly need in your FME Workspaces.
Second, Dean gave an overview of common raster scenarios like format conversion, GIS enrichment, and 3D workflows. He showed a couple of interesting examples, including a Storm Tracker workspace that builds a query string and gets live information on storms, then outputs to a KML time series. Dmitri finished the raster demos by using FME to definitively prove the colour of "The Dress", then briefly discussing LAS integration.
Wrap-up
Don and Dale wrapped up the day by going through all the ideas on the FME Cool Wall. Personal favourite suggestion: "Don and Dale should have their own comedy show."
Want to experience the FME World Tour for yourself? Be sure to register for the city nearest you, and check our website for presentation recordings as they're made available over the coming weeks.

Tiana Warner
Tiana is a product marketing manager at Safe Software. Her background in computer programming and creative hobbies led her to be one of the main producers of creative content for Safe Software. Tiana spends her free time writing fantasy novels and riding her horse, Bailey.