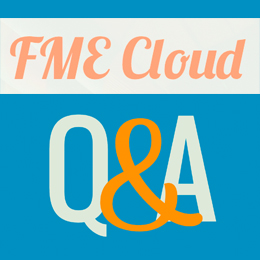 The main architects of FME Cloud, Stewart Harper & Don Murray, recently held an open mic to answer questions about FME Cloud (see the recording). Many great ones came in, and we'd like to thank those of you who participated. For those of you who missed it, here's a round-up of the top questions.
Q. All my data is on premises behind my firewall. Is FME Cloud a good fit?
A. It depends if you're using anything else in the cloud for your workflow. When all of your data resides on site, and you're only processing and distributing data on site behind your firewall, there's no point in going out to the cloud. FME Server installed on premises would be the right fit.
But if anything or everything is in the cloud already, such as web services, data, etc, then you'd certainly benefit from using FME Cloud.
Q. Would FME Cloud be useful for project prototyping?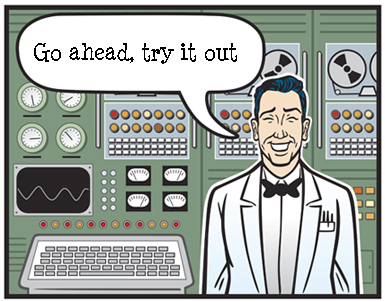 A. Yes, in fact we use FME Cloud for nearly every project here except for the bare minimum testing of FME Server on premises. FME Cloud is simply a cloud hosted deployment of FME Server, so the functionality is the same, but there are no startup hardware or software costs. In fact, we give everyone a $250 credit to get started with FME Cloud so you can try it out – and build a prototype – for free.
Q. What benefits would FME Cloud offer over FME Server?
A. FME Cloud is FME Server as a service, so the benefits are related to cloud deployment.
Use As Needed: You gain FME Server functionality in minutes, change capacity with the click of a mouse, and have no software, hardware, or bandwidth investments to make.
Scaling: If your needs change you just adjust your capacity online, get access to it within the hour, and pay only for what you use. The adjustment is seamless to the end user.
Fully Managed: With FME Cloud, you don't have to worry about backups, security updates or monitoring. You can concentrate on your data workflows and leave the worrying to us.
Stewart explained how just last month we updated the AWS hardware disks from magnetic EBS disks to SSD, so customers automatically logged in one morning with faster disk speed technology for a lower price.
Inexpensive: FME Cloud has a predictable cost model, and you only pay for what you use. You can pay by the hour or save more by the year.
Q. Being a cloud-based solution, is FME Cloud secure?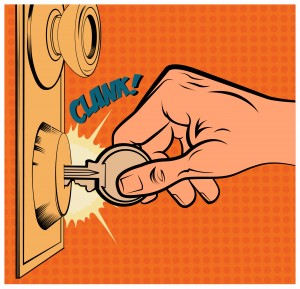 A. FME Cloud is very secure and we've put a lot of time and effort into making sure all components of the stack as as secure as can be. We've described the details in this whitepaper.
This approach of building security into the platform not just bolting it on is an important thing to understand. Often, if someone gets through an on site firewall, they have access to everything, as Target went through recently. We also offer security features such as two-step authentication to avoid phishing.
Another consideration is that FME Cloud runs on AWS. You therefore have whole teams of security experts ensuring that each level of interaction is secured uniquely, and the latest security threats are constantly being examined and addressed by knowledgeable experts.
We also heard the question: "With all that security, does FME Cloud take a performance hit?" To the best of our knowledge, we've seen no difference in the performance between FME Cloud and FME Server installed on premises.
Q. I don't fully understand FME Cloud pricing.
A. We get many questions about pricing, so we'll try to deliver some clarity, and a few tips for keeping your pricing down:
How is FME Cloud priced?
There are three components to FME Cloud pricing:
Instance Size: number of cores and ram available, priced per hour. We've named these for easy reference.
Data Transfer Out: per GB of data transferred out, billed monthly.
Data Storage: per GB of data stored, billed monthly.
b. Can I only run the instance for a few hours a month and pay for that use?
You only pay the instance size rate when the server (instance) is running. So if you're not running jobs you're wise to stop the server. You can do this using the dashboard, the API, or using transformers in workbench. These help you automate and optimize the time you have the server running.
Data transfer is simply charged according to how much data is transferred out of the instance in the month's billing cycle.
Data storage is charged per month, so the server being stopped or started does not impact this pricing.
You can save money with an annual subscription if you can anticipate what your instance size needs will be. Additionally, when Amazon lowers AWS prices, we pass these savings on to our customers.
c. If I have everything all set up, won't I lose all my data if I shut the instance down?
You don't lose any data when you pause your instance. This simply pauses the server and you are no longer billed the hourly rate. It is like shutting your laptop down.
The only time data and backups would be removed is if you were to terminate your instance entirely, and we include a great deal of warnings first. This is like throwing your server in the garbage. If you do wish to do this, you can take a snapshot of your instance first, and relaunch it at a later date. We include five snapshots for free.
Snapshots are a great way to save money. For example, if you don't need to process any jobs again until six months from now, you can use a snapshot so that your monthly costs are zero in the mean time.
d. Can I pay without a credit card?
Yes, you can. Normally, FME Cloud bills are charged monthly to the VISA or Mastercard credit card you enter upon signup. American Express support is about a month away. We use a PCI compliant service to securely store this information, and notify users by email and within FME Cloud when their $250 free trial is coming close to an end so that the first charges are not a surprise.
But if credit card billing isn't possible at your organization, we offer prepaid credits starting at $5,000. Please contact us directly to place a purchase order for prepaid credits.
e. Can I see how much I'm spending?
No one appreciates surprises on their credit card bills. You can view your FME Cloud real time costs by clicking "Current Monthly Usage" in the left menu, and see your usage and price total. It's accurate to within one hour.
Q. Is FME Desktop included in FME Cloud or do I need to buy it separately?
A. FME Desktop is the authoring platform for FME Cloud workflows. It is sold separately from FME Cloud, but you can receive a free trial by visiting safe.com.
Q. Can I do auto-scaling on FME Cloud if my throughput suddenly spikes?
A. Currently you cannot. The only way to scale is to increase the size of the instance on the dashboard which takes a few minutes.
Q. Is FME Cloud exactly the same as FME Server? For example, are all the same formats supported?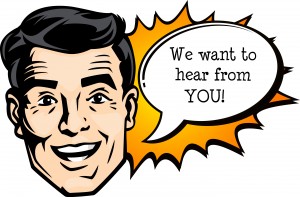 A. FME Cloud is operated on Linux, which means there are a few formats that aren't supported in this version of FME compared to the Windows version. We are working on supporting these other formats in the Linux deployment, so if there are any formats you'd like us to support in the cloud, please let us know. It's your feedback that makes FME better!
Have more questions for us? Please let us know! Comment below or contact us at support@safe.com.

Erin Lemky
Erin leads the Product Marketing team at Safe Software and enjoys connecting people with the information they need. As a Ravenclaw, she is always seeking knowledge that can help customers improve the world with their innovation. After work, she can be found tending to her permaculture homestead or reading a fantastic adventure with her family.