The FME International User Conference 2014 took the party to Science World last night for dinner and cocktails. Having the entire Science World building to yourself is just as fun as it sounds.
FME Dam building 101. @SafeSoftware had a great time at the evening social. #fmeuc pic.twitter.com/VyQgfJMDVN

— SpatialBiz (@spatialbiz) June 12, 2014
Google Keynote
Adam Evans of Google Canada opened by emphasizing the importance of location.
"Maps are the next document type". Google's Adam Evans at #fmeuc Are becoming as everyday as spreadsheets. pic.twitter.com/jyUjXiI47v

— Dale Lutz (@DaleAtSafe) June 12, 2014
"51% of companies use web-based mapping services in their business," he said. He went on to show a few powerful use cases for Google Maps Engine.
He explained how data management in Google Maps Engine is their big problem.
"We're looking for ways to be interoperable," he said. "Working with FME is a massive game-changer."
He showed a simple FME Workspace that simplifies an otherwise complicated transformation in Google Maps Engine. FME allows Google Maps Engine to connect with hundreds of data formats.
Of course, when talking about Google, we're talking about massive amounts of data. "We collect more data in a week now than we had in our entire archive in 2009." Google's partnership with Safe Software is exciting for the future of data interoperability in Google Maps Engine.
Listening to the google keynote, they index the entire internet every 30 mins. WOW! #fmeuc

— Baz Newman (@baznewman) June 12, 2014
FME 2015 and Beyond
Dale and Don showed some exciting prototype FME functionality. "You're going to help choose the future of FME today," said Dale. Attendees voted for their favourite features in the FME UC mobile app.
Functionality included Sharepoint reading, IFC writing, Minecraft writing, Web Services, Web Filesystems, Frankenbench (a Workbench/Data Inspector hybrid application), and a few workbench-specific and reader/writer-specific improvements.
Writing Minecraft with FME: Read a Point Cloud, scale it, set block material based on elevation, then write out to Minecraft. #easypeasy

— FME UC 2014 (@fmeuc) June 12, 2014
Dale at safe simulating an ESRI feature service using an FME server web service #FMEUC #argisonline

— LaudonTech (@MapsRus) June 12, 2014
New PDF options in FME 2015 will be nice for #cartography, looking forward to playjng with it. #FMEUC

— Hans van der Maarel (@redgeographics) June 12, 2014
Usability changes to the FME Workbench interface earned enthusiastic applause:
New feature coming soon to fme – extending the feature type to see the full name #fmeuc pic.twitter.com/7Y4XS6PI7A

— Lord Location (@DARKspatialLORD) June 12, 2014
"It always amazes me that the smallest things get a clap," joked Don.
FME Server is getting a few great improvements for 2015, including a major visual overhaul to the web interface.
A totally redesigned FME Server interface is coming. Simpler workflows and mobile friendly. #fmeuc pic.twitter.com/FiQNCVkKJp

— FME UC 2014 (@fmeuc) June 12, 2014
Finally, Don and Dale promised better scalability, reliability, and performance than ever for FME Cloud.
The winning features were determined at the end of the day in a poll: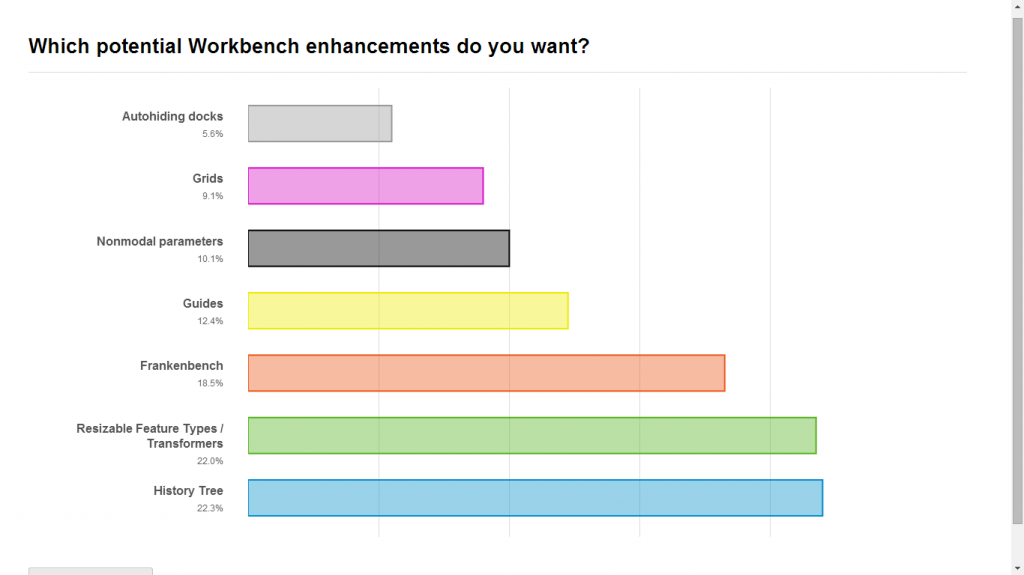 Look out for the FME Workbench "history tree" in FME 2015!
Breakout Sessions
30 users presented today in the breakout sessions. Like yesterday, be sure to browse through the #fmeuc Twitter hashtag and/or @FMEUC account for recaps and quotes from all the sessions.
Clever Workspace design can cut processing times drastically, from 3 days to 10 minutes on Bruno De Lat's project. Wow! #fmeuc

— Hans van der Maarel (@redgeographics) June 12, 2014
"All your BIM are belong to us": @gschleusner (& @czoog) using FME to flow data between #Revit & #CityEngine #fmeuc pic.twitter.com/Li4XuwuLBy

— Dale Lutz (@DaleAtSafe) June 12, 2014
"Virtual" Miso Iric from City of Malmö presenting 3D-printing #fmeuc pic.twitter.com/0MCHbN58Ue

— Ulf Månsson (@ulfme) June 12, 2014
#fmeuc if you are looking for more information about #mapapps and the #fme extension visit http://t.co/XzfFsrOlPV or ask me :))

— Mark Döring (@mcmarkinger) June 12, 2014
Wrap-up, FME World Cup of Data awards, and a Surprise Party
The conference wrapped up with the final match of the FME World Cup of Data, which included a talk from Safer De Wet, who built the FME Cloud-hosted contest website. He explained how FME was used to run the contest and the "matches", which were FME Workspaces. The prize for the best team name went to The Rasterfarians. Jorge Vidinha (Team GisLX) won the grand prize for the UC pool for his perfect picks. Congratulations!
@FMEDoctors wrapping up all the questions from @fmeuc #fmeuc pic.twitter.com/Z7VUjduy6a

— Permuto (@Permuto_Aus) June 12, 2014
We closed with a Surprise Safe Software Birthday Party and Thank You video, where staff and attendees took the opportunity for a video message to congratulate Don and Dale on 20 years of Safe Software and thank them for everything they've done.
what a wonderful and emotional closing session #fmeuc we really love this wonderful #FME family #thankyou all pic.twitter.com/JIbARu68Nn

— Mark Döring (@mcmarkinger) June 12, 2014
Some of the greatest guys out there #fmeuc pic.twitter.com/pF7apHIDhr

— Lord Location (@DARKspatialLORD) June 12, 2014
Wow, a very inspiring end to #fmeuc @fmeuc – knocked it out of the stratosphere, @DaleAtSafe @donatsafe !! pic.twitter.com/5ir75ZOnIg

— Mark A Giesbrecht (@geographicus97) June 12, 2014

Tiana Warner
Tiana is a product marketing manager at Safe Software. Her background in computer programming and creative hobbies led her to be one of the main producers of creative content for Safe Software. Tiana spends her free time writing fantasy novels and riding her horse, Bailey.