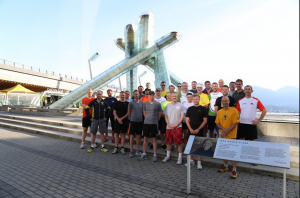 Day 2 of the FME International User Conference 2014 began with a scenic run around the Seawall. The day was full of cutting-edge technology and inspiring data stories from FME users around the world.
After a delicious breakfast, Don and Dale started the day with a big thanks to the top 5 leaders on FME Community Answers.
Two inspiring keynotes followed.
Autodesk Keynote
Robert Bray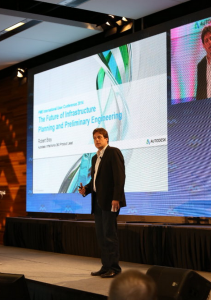 's keynote showed off impressive contextual models of L.A., containing unified GIS, CAD, Revit, and point cloud data. He discussed how good transformative solutions offer rich modeling, analytics, and simulation, as well as unified access – anywhere, anytime.
He quipped that they're simple enough for people who don't even know how to spell GIS.
Robert discussed digital and physical models, highlighting the physical 3D model of the San Francisco skyline in 2017, which includes 18,000,000 million buildings.
Dale concluded with a mention of the Autodesk user conferences, saying that "Autodesk keynotes stretch our minds to what is possible."
Hexagon Geospatial Keynote
Bradley C. Skelton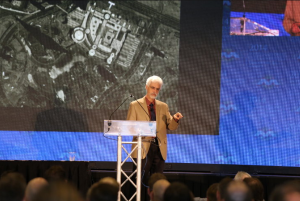 took the stage with a cutting-edge talk on sensor technology. He noted the exciting growth in the number of sensors, resulting in a huge variety and quantity of data.
Bradley C Skelton starts the @HexGeospatial keynote with praise. "The swag for this conference is the best I have ever gotten." Aw, thanks!

— FME UC 2014 (@fmeuc) June 11, 2014
Of course, having a huge amount of data is meaningless unless we do something useful with it. "Data must be analyzed to provide actionable information," he said. "You need a rich set of GeoSpatial tools that allow you to do all these things."
He showed off impressive, high-precision point cloud data, moving beyond LiDAR and into SGM technology. He talked about how to exploit 3D datasets with 2D visualization techniques.
He also discussed radar visualization and the incredible future of video sensor technology, showing a sensor video taken from space. He talked about fusing point cloud and raster data, calling it "some of the best change detection I've seen."
Brad from @HexGeospatial seamlessly browsing 1.3 TB of data to conclude this amazing, cutting-edge talk!

— FME UC 2014 (@fmeuc) June 11, 2014
"Lots of data and many things to do with it," said Dale. "It's hard to imagine 20 years from now … even 3 years from now!"
AUTODESK and HEXAGON keynotes at #FMEUC : 4D, sensors, 3D printing, drones, big data… Data, data and more data.

— Ulf Månsson (@ulfme) June 11, 2014
.@donatsafe "Great benefit of partnering with companies like @Autodesk & @HexGeospatial is we get to play with their very cool software."

— FME UC 2014 (@fmeuc) June 11, 2014
Breakout Sessions
If only it were possible to be in 5 conference rooms at once. It's always fascinating to hear what FME users are up to. Below are just a handful of highlights from today's 34 breakout sessions. Browse through the #fmeuc Twitter hashtag and/or @FMEUC account for tons of recaps and quotes from all the sessions.
David Eagle talked about optimizing processes at Ordnance Survey. Apparently he came across a 60 MB FME Workspace with nearly 1000 transformers!
Tino Miegel from con terra discussed Python scripting in FME. This talk was so popular, the room filled up.
Amanda Graf on reverse 911. Address match rate was 65% and unacceptable for dispatch. Now 99.6% match rate with FME. pic.twitter.com/EQiqutAoyD

— FME UC 2014 (@fmeuc) June 11, 2014
.@Lassitani talks useful transformers for data preprocessing. "You can do it with FME. Everything is possible with FME."

— FME UC 2014 (@fmeuc) June 11, 2014
FME working with real time ship tracking @exactEarth showcasing a 5 million times a day process #fmeuc pic.twitter.com/r0SmOHlMc3

— Lord Location (@DARKspatialLORD) June 11, 2014
Silkeborg's GIS team sometimes receives "interesting CAD data". Allegedly this is a highway. Buckle up! #fmeuc pic.twitter.com/z37Q2Dpp6X

— FME UC 2014 (@fmeuc) June 11, 2014
I see dead people in FME. BC Coroners office is using FME to assist in analytics #zombie #fmeuc pic.twitter.com/q2IXTbXfu6

— Lord Location (@DARKspatialLORD) June 11, 2014
FME delivers lighting strikes to mobile and web. Not meaning the real strike but information about the strike. #FMEUC

— Lassi Tani (@Lassitani) June 11, 2014
Impressive discussion of FME benchmrking test to manage up to 50,000 lightning strike recordings per second #bigdata #dataanalytics #fmeuc

— GISuser GeoTech News (@gisuser) June 11, 2014
Lightning Talks
Mikael Månsson from SWECO started off the Lightning Talks with a live demo of a powerful non-spatial data transformation using FME's Excel writer.
Chris Barrington Brown of Cunning Running gave us a gripping scenario to consider: where is the terrorist located? How can we get the innocent people out and the SWAT Team in? He discussed how an embedded FME instance helps create situational awareness in terrorist and active shooter situations.
Peter Laulund took the stage next to discuss how GST uses an Atom feed to notify users about new data. He showed how FME reads the feed and fetches data based on criteria. Yes, this was a day full of surprises:
I didn't think I'd ever see Peter Laulund use Workbench! First time for everything… #fmeuc pic.twitter.com/OsQ0sF989E

— Hans van der Maarel (@redgeographics) June 11, 2014
Joanna Hobbins of CAE closed off the lightning talks for the day. She showed an impressive video demo of lightmap overlays for night scenes, and shared a couple of tips on how FME is used to generate these for aeronautic simulation.
Wrap-up & FME World Cup of Data madness
The FME Doctors gave a quick report of the day's interesting problems, and a couple of great ideas suggested on the FME Idea Board. We take these suggestions seriously – and you heard it straight from FME dev Brittany: "It's coming!"
The FME World Cup of Data panel took the stage next. Be sure to make your choice on the poll in the FME UC app, and tomorrow we'll award the Best Team Name. The panel discussed how FME usage stats have been used to determine the results for this contest, including a few interesting maps showing which formats are used the most around the world.
Interesting turn of events when rowdy XML fan Don took the mic…
@donatsafe takes control of @fmeuc go in about XML flavours #byedon #fmeuc pic.twitter.com/rn7QW2y0Hc

— Lord Location (@DARKspatialLORD) June 11, 2014
@FMEWorldCup panel hijacked by rowdy XML fan @donatsafe – "There are no XML formats – only XML flavours!" pic.twitter.com/C10KqUmCWg

— FME UC 2014 (@fmeuc) June 11, 2014
Security! Get this guy off the stage!
Tonight we head to Science World for a fantastic evening of dinner and cocktails. See you all tomorrow!
Where are they taking him? … #fmeuc @donatsafe pic.twitter.com/42n9OSl6gB

— Astraelea (@Astraelea) June 11, 2014

Tiana Warner
Tiana is a product marketing manager at Safe Software. Her background in computer programming and creative hobbies led her to be one of the main producers of creative content for Safe Software. Tiana spends her free time writing fantasy novels and riding her horse, Bailey.