Last week I participated in a webinar we put on called "How to Prepare Data for Compelling Displays in Google Earth". During the webinar we went through 8 scenarios and surveyed attendees, asking: Q: What are you interested in doing in Google Earth? Below I'd like to expand on the topics that resonated the most and how, using FME, you can deliver data in a form that leverages the full power of Google Earth.
But first, here are the poll results: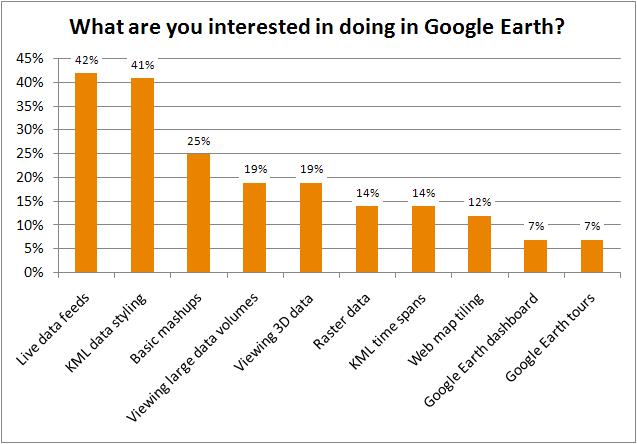 Styling KML for Easy Presentation in Google Earth
In the first half of the webinar, our FME Evangelist, Mark Ireland showed how to:
Create basic data mashups
Create KML Tours
Style KML data
Create KML Timespans
KML Styling: Hurricanes
When it comes to showing data in Google Earth or Maps, it is all about the effective use of styling. My highlight from Mark's demos was watching just how easily he could create compelling displays in Google Earth, all of which end users could readily understand. His hurricane demo was a perfect example. You could take any random Joe off the street and they would know immediately that they were looking at hurricane information. Due to the clever styling Mark used, our friend Joe could also easily tell you the relative sizes of the hurricanes and their paths.
KML Styling: Election Data
Here's another great example of the styling work. In this example, Mark was able to display election data in Google Earth with almost no effort. He then went on to show how with a little more effort and only a handful of FME transformers the presentation becomes much more compelling, with more dramatic and easier to understand styling!
Using Google Earth with Large and Real-Time Data
After Mark, next up was Aaron Koning who demonstrated how to:
Incorporate raster into KML
Tile data
Handle large data volumes
Work with live data feeds
Live Feeds in Google Earth
One of the highlights of Aaron's presentation was showing how easy it is to set up FME Server to stream vector data out of a database into Google Earth, complete with client side caching! For added measure he drove home the point that this doesn't mean you give up access to your data as he was still asked to authenticate before he could see the data!
His example was certainly compelling, and one we've seen before. Aaron took real-time bus data from San Francisco, in my favourite format, and used FME Server to bring that information into Google Earth. He was then free to customize the output so that it could appear in many different ways in Google Earth.
Large Data in Google Earth
In another of Aaron's demos he answered the question: "How do I share large raster and vector datasets with Google Earth?" Here Aaron showed that with a single setting in FME Workbench, a user is able to generate a Raster Pyramid of any raster data that can be immediately consumed by Google Earth! Almost no effort and you are ready to go!
Let Your Applications Shine
I think the webinar also really gave a good indication of what we mean at Safe when we talk about getting data to applications. We don't merely want to get the data there so it works; we want to get the data there so that the applications shine! (in this case Google Earth)

If you're interested, I would encourage you to watch the full webinar recording. If you want to play with the data yourself – no problem. You can also download the data and workspaces too – and if you don't currently have FME, you can download a free trial as well.
Are you struggling to get your data into Google Earth? Or can you get your data in, but don't know what to do next? In either case, let me know – comment below and I'll do my best to give some helpful advice.


Don Murray
Don is the co-founder and President of Safe Software. Safe Software was founded originally doing work for the BC Government on a project sharing spatial data with the forestry industry. During that project Don and other co-founder, Dale Lutz, realized the need for a data integration platform like FME. When Don's not raving about how much he loves XML, you can find Don working with the team at Safe to take the FME product to the next level. You will also find him on the road talking with customers and partners to learn more about what new FME features they'd like to see.