Hi all,
As I write this, members of our Professional Services team at Safe are busily engaged in putting the final touches on a completely new-look fmepedia.
"What's that?" you cry, "a new fmepedia! But why?"
Let's take a look…

Old fmepedia
If you've ever visited fmepedia.com – and you probably have – you'll have found a veritable treasure trove of FME knowledge. It had articles, FAQs, examples, fun stuff, and lots more. However, the content wasn't being kept up to date very well, and the search capability was fairly poor. Plus, it wasn't really very interoperable with all the other systems at Safe and – as you know – interoperability is our middle name.
Below: The way we were: fmepedia yesterday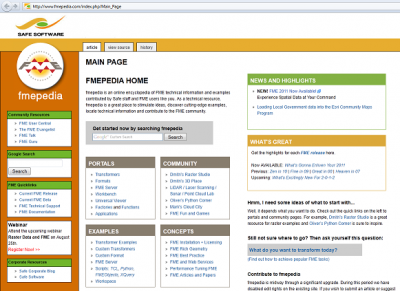 Quick Quiz: fmepedia originally went live in:
October 2003
February 2004
June 2005
September 2006
Answer at foot of page!

New fmepedia
So, with all of the problems in mind, we've switched to a new technology for our product knowledgebase, and fmepedia now looks like this (click to enlarge):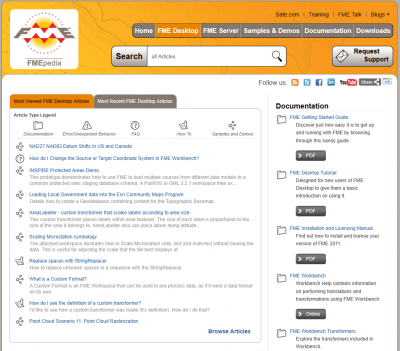 The main goals of the update are to allow customers, partners and staff to find up-to-date answers to their FME problems or questions in the quickest, most efficient way possible. The new site will allow us to centralize all of our support resources, providing a scalable platform to create, organize and maintain articles with much greater ease.  Furthermore, we believe that this new site will ensure that users can easily explore the technical capabilities of Safe Software's products. To populate it, over 850 articles have been imported from the old FMEpedia wiki.
Below I'll cover a few of the obvious changes.

Quick Quiz: Put these fmepedia pages in their order of popularity:
About FME Server; Downloadable Fun Stuff; FME ESRI Compatibility; Geometry Model; Main Page; Oliver's Python Corner; Performance Tuning FME; Visiting Vancouver; WFS Servers; What's Great

What's New?
Since this is a new fmepedia, using a new (non-wiki) technology, a lot has changed.
Firstly the URL is slightly different. We're going with fmepedia.safe.com, though redirects have been set up so that old links should still work.
Articles in fmepedia are still divided into useful topics, but these are more clearly defined: so there will be some samples/demos, some FAQs, some "How To" articles – but also note that documentation is included:

So any search you do will (soon, if not yet) retrieve documentation as well as knowledgebase articles. That's what I meant by better interoperability. And you can filter on each type to see just FAQs, or Documentation, etc.
Secondly, categorization of articles is much better too (click to enlarge):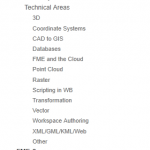 So there is a standard set of categories and the search facility lets you filter results by each of these too. For example – without even entering a search term – I could filter all articles to find sample workspaces related to point clouds (click to enlarge):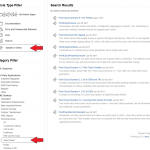 Another benefit is that the landing page for fmepedia now includes a list of the latest FMETalk messages, recent Safe Software tweets, plus information on upcoming webinars and training. So essentially, it will replace the old fmeusercentral.com page (you know, the one that used to look like an FME workspace).

Quick Quiz: How many page views were there on the old fmepedia?

FAQ
Q) Have all the old fmepedia articles been ported across to the new system?
A) We've gone through all of the old articles, cleaning out what was no longer useful, updating what was, and bringing those useful items across to the new site. So not everything, but all that we considered useful material.
Q) Do I need a user account to access or edit articles?
A) No user accounts are required to access articles in the new fmepedia. Because we've moved from a wiki only Safe Software staff will have editing rights. If you want to contribute something to an article or suggest an edit then email us at support@safe.com
Q) Is there an archived version of the old fmepedia that I can still access?
A) No, but we will have an internal version for Safe staff – so if there is an article you think is still relevant, and it doesn't appear in the new site, then please do let us know and we will transfer it over.
I know change can be a bit disturbing sometimes, but we are confident you will find the new fmepedia a useful update to your favourite FME learning tool. And please do send us feedback to let us know what you think.
Regards



Quick Quiz: Answers
fmepedia originally went live in: June 2005
Top 10 Pages in order:
Main Page (736659 views)
Whats Great (146346 views)
Visiting Vancouver (80974 views)
WFS Servers (65777 views)
Oliver's Python Corner (60842 views)
Downloadable Fun Stuff (57824 views)
Performance Tuning FME (45957 views)
About FME Server (44438 views)
FME ESRI Compatibility (41745 views)
Geometry Model (36592 views)
Number of page views on the old fmepedia: 25.9m

Mark Ireland
Mark, aka iMark, is the FME Evangelist (est. 2004) and has a passion for FME Training. He likes being able to help people understand and use technology in new and interesting ways. One of his other passions is football (aka. Soccer). He likes both technology and soccer so much that he wrote an article about the two together! Who would've thought? (Answer: iMark)