About a year ago I wrote some reflections on the 5 stages of an FME release, and as I review it, just now, I have to say we followed them pretty much to the letter again for FME 2011. With fondness I remember the early idealism, then the optimism, then with a little less pleasure, the realism, which leads, almost as if it were scripted, to the usual last minute dramatics of last week's release culmination.
FME 2011 by the Numbers
As we begin the Dénouement phase of our FME 2011 release today, I thought it would be worth telling the FME 2011 release story through some numbers:
25,000: Approximate number of CPU hours spent on the automated testing of FME 2011
8320: Number of automated tests run each weekend
8304: Number of source code check-ins on the FME 2011 code tree
6249: Number of automated tests run on each daily FME build
2602: Number of documented development tasks closed during FME 2011
1008: Number of in-person attendees at FME User Meetings during calendar 2010
592: Number of unique customer requests resolved with FME 2011
416: Number of transformers shipped with FME 2011
265: Number of formats supported by FME 2011
201: Number of builds of FME 2011 that have been made (so far)
22: Number of official CD-pressed FME releases to date
20: Number of hours of CPU a complete test run takes on the fastest platform
15: Number of months that we've been actively developing on FME 2011
11: Average percentage speedup of FME 2011 vs. FME 2010 across all tests which run for more than 7 seconds
5: Number of platforms the above tests are run on
1: FME 2011 Gold master DVD shipped off to the press
All these numbers add up to what we believe is the highest quality, most powerful, and most usable FME ever.
Driven by User Feedback
We're very pleased to have been able to implement so many excellent suggestions from our users (many of which we received during our user meetings throughout the year) – including:
a)
Ability to work with LiDAR and point cloud data
b)
Templates to get you started down the right path
c)
d)
Scheduling and a REST API for FME Server
e)
A greatly expanded set of Tester predicates
f)
Inline data inspection – "workspace debugging" if you like. No more waiting for a translation to finish to see what the results are
g)
"Styler" transformers for customizing CAD output
h)
More powerful XML support
i)
Support for cloud options (Windows Azure, Google Spreadsheet, etc)
All in all, we are proud of what FME 2011 will do for our users.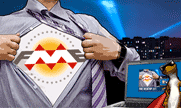 And why does that matter? In today's environment of an expanding diversity data formats and data models and ever increasing data volumes, there is more and more pressure to make maximum use of available data for planning and decision making. Our users have no choice but to become the friendly neighbourhood spatial data superhero of their organizations, and our role is to equip them.
More FME 2011 Details and Some Thank Yous
If you want to learn more about FME 2011, check out our launch page (includes details on downloading FME Desktop and Server 2011). I also hope to see many of you at the FME 2011 webinar on Feb 8 (that Don and I are presenting), and on the road on the FME 2011 World Tour.
In conclusion, thanks to the entire team at Safe for their role in making FME 2011 the best it could possibly be, and thanks to all FME users for your support, your feedback, and your business. We look forward to fueling your data handling superpowers for another year!

Dale Lutz
Dale is the co-founder and VP of Development at Safe Software. After starting his career working spatial data (ranging from icebergs to forest stands) for many years, he and other co-founder, Don Murray, realized the need for a data integration platform like FME. His favourite TV show is Star Trek, which inspired the names for most of the meeting rooms and common areas in the Safe Software office. Dale is always looking to learn more about the data industry and FME users. Find him on
Twitter
to learn more about what his recent discoveries are!