Hi all,
At the end of last week the proceedings from the greatest show on Earth – the recent FME User Conference 2009 – were released onto Safe's web site. So this evangelism posting is a brief review of a handful of them.
The really great thing is that we had a professional videographer who recorded all of the sessions, and so they are each available as a nicely edited movie. Not quite Cecil B DeMille, but way better than having to make do with a PDF or PowerPoint file.
You can obtain the presentations by visiting www.fmeuc.com/presentations
The presentations are password protected. If you attended the conference you'll automatically have received an email providing the password. Otherwise you'll need to fill in the form and request access.
See? You know you should have attended now, don't you!



I wanted to highlight just a few of the presentations, and luckily there were three which stood out as being the ones that people most talked about to me, or tweeted about on Twitter.
Extending FME Programmatically: Gabriel Reid, TeleAtlas
Don't let the title put you off. This talk should be required viewing – even for non-programmers – as it shows off techniques that many folk don't even know exist.
As Gabriel explained, FME is great at making complicated tasks very simple to do. It can't, however, be perfect, and there are some tasks which aren't as simple as you would expect.
In these situations, a talented individual can make use of FME's programming abilities, and use TCL, Python, or FME Objects to process data in a nicer way. Gabriel starts out by talking about not only how to do this, but also when to do this!
But using scripts to drive processing is not a new technique. Where Gabriel really got people talking was when he started to demonstrate use of FME's PlugIn SDK.
The Plugin SDK can be used to create new format Readers and Writers (though as Gabriel notes, it's a process where you would benefit from first talking to Safe's Professional Services team). However – and what many people don't realize – is that it can also be used to extend the transformational functionality of Workbench. In particular a factory created with the SDK has virtually unlimited power.
Gabriel demonstrated this with a really cool tool he created for Workbench – one that reinforces FME status as a 'visual programming language' – a debugging interface.
Here (below: click to enlarge) you can see how Gabriel's new transformer pops up a display window that shows:
1) A graphic representation of the feature being processed
2) Textual information about the feature
3) The ability to set how fast features are processed, to pause the translation, and to step through each feature one-by-one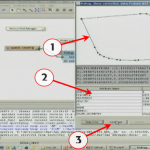 Way to go. This is pretty stunning stuff, and no wonder this was one of the most talked about presentations. We certainly expect that attendees at this talk will ask us to include such functionality directly within FME… and who knows!

Powering a Spatial Project Dashboard in Google Earth Enterprise with FME: Wes Hardin and James Katz, Burns & McDonnell
We'd already seen a presentation on this project in the 2008 conference, but it was definitely worth a repeat now that the project has passed the beta stage.
The unique part of Wes and James's talk was that it occurred fully in Google Earth. No PowerPoint slides whatsoever! And that's really the whole point – that an FME-powered Google Earth dashboard should be a one-stop shop for anyone in Burns and McDonnell to get the project information they require.
Also – fairly uniquely – the presentation used the live system in which around 300 actual users were logged in and retrieving data. It nicely demonstrated just how robust and flexible a solution it is.
Where FME comes in is in pulling together a variety of data sources to create the KML used in this dashboard. Data is typically integrated directly from the source, rather than copied or translated, in order to use the native security of the source data.
One scenario discussed was the company's real estate group, which deals with property ownership and rights-of-way. For them, a spatial dataset of land parcels was linked to the property database (using FME) so that the generated KML has hyperlinks directly into both the database itself and to attachments such as PDF plans (below: click to enlarge):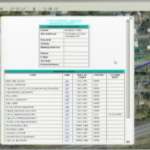 Not only do office-based workers use this, but field staff use laptops in order to access the latest information.
On the FME side the system is making use of database reading, KML writing and FME shutdown scripts, plus various transformation tools such as the XQuery transformers to manipulate the data in between.
For us at Safe this is classic FME: they're not visualizing or analyzing the data with FME, but using it to move and integrate data from disparate sources, then distribute it. And personally I've always thought a GIS (yes, I count Google Earth) can be defined simply as a spatial method for data retrieval, so I really like this solution.
So, where will this project go next? Well Wes explained that they are starting to get into 3D to visualize – for example – projects such as wind farm modeling. In fact the example he showed was actually 4D since the data is animated by using the KML time scale functionality, and Wes does also plan to expand the system by keeping timestamp information so that data is viewable in previous states. If you want to know how to do this then check out Safe's KML training module for FME.
The technology Burns and McDonnell use is actually Google Earth Enterprise – which let's them use their own imagery guaranteed to be accurate for their purposes – and also (in some parts) FME Server, which ensures it can be a live view of the data.
Great work Wes. I can't wait to see what the system looks like if you present again at the next conference.

Using FME to Drive a Location-Based Email / Cell Phone Notification Service: Brendan Cunningham, Kilkenny County Council
As Don and Dale demonstrated, it can be really effective when you set up a cell phone notification service. Their Friday-morning talk was peppered with various bleeps and pings, as an FME Server process they'd started sent out notifications to carefully chosen members of the audience.
But doing such a thing as a fun demo is one thing; Brendan Cunningham of Kilkenny County Council in Ireland has actually created a tool for doing such things for real.
Although Kilkenny use a series of different GIS systems, and FME is essential for getting data between them, the key to their notification service is FME's data transformation capabilities.
Simply put, citizens of Kilkenny register their home location and cell/mobile phone number on a web site using Google Maps. When events occur such as water supply outages the person is automatically contacted via an SMS message.
But how does the system know which residents to alert? There is no point in alerting everyone to a minor event which might affect only a few. Well this is where the FME transformation comes in. Transformers such as the PointOnAreaOverlayer, NeighborFinder, SpatialFilter, and Bufferer are used to determine spatial relationships between citizens and events, so that only affected people are notified.
Here (below: click to enlarge) is an image showing how a point on area overlay can be used to determine which homes are inside the event boundary and therefore who should be alerted: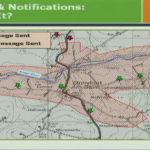 At the moment the system is used only for hazards or scheduled works, but in future there might be more alerts such as traffic accidents. As Brendan explains, this is simple to achieve by adding new layers of data to existing workspaces. In fact, in version 2 of the system it's hoped that users will be able to define their commuting routes and receive automatic alerts based on that.
The system doesn't use the same technique as Don and Dale to send SMS messages (Don and Dale sent a message to Twitter – we'll have a new Twitter transformer soon – which has the ability to forward them on as SMS) but the underlying technique of spatial relationships is exactly the same.
What I really liked about Brendan's talk was how he speculated on wider use for such technology: for example disasters which aren't limited to international boundaries (eg tsunamis) or for police alerts for events such as missing children.
One of the audience questions was about how well such a process would scale. I could see that being a concern when larger authorities than Kilkenny would like to do this, though I'm sure FME could handle it. One technique I've used in the past is actually pre-processing the relationships between users and events. Obviously you can't do that for live events such as natural disasters, but you could for potentially known events such as a water outage. Simply run the PointOnAreaOverlay for people inside the area serviced by each water pipe and save the results. That way if any pipe goes out of service you already have the list of people to contact, and don't have to run the query live every time.
Anyway, this was a very interesting presentation. Brendan uses what are very simple FME techniques to create an amazingly effective tool.

In all, these were great presentations, and there's no surprise they were talked about so much. And it worked out well for me that there was one on reading and writing data, one on transforming data, and one on customizing FME. Just goes to show the range of functionality available at your fingertips.
I'm just going through all of the talks right now, as I only got to see two live (and even then fell asleep in one of them! Sorry, it was a long week and no reflection on the presenter's skills). The diversity and quality of presentations always amazes us at Safe, and gives us added incentive to keep adding improvements to FME. Thanks to everyone who travelled such long distances to present to us all. I hope you benefitted from attending and hope to see you next time.

This Edition of the FME Evangelist…
…was written to the tune of all the talks from the user conference. But if I wasn't busy watching those I would be listening to Galileo by the Indigo Girls. Great song – but strange video.

Mark Ireland
Mark, aka iMark, is the FME Evangelist (est. 2004) and has a passion for FME Training. He likes being able to help people understand and use technology in new and interesting ways. One of his other passions is football (aka. Soccer). He likes both technology and soccer so much that he wrote an article about the two together! Who would've thought? (Answer: iMark)