Introduction
Hi folks. Starting now I'm going to try and reduce the number of items per post, but publish more often. I'll still try and mix up topics so there is something for everyone in each post.
Let me know how well this works out for you all.
This issue has the best FME Server demo I've seen(!), some exciting news for users of the scripting tools Python and Tcl within FME, plus an important notice for users of FME on Linux who have a fixed (node-locked) license.
Cheers,

Contents
1) FME Server Demo: Handling Real-Time Location Data
2) Python 2.5: Now included with FME2009 (and more!)
3) FME2008: New screen saver
4) TCL: Updated to v8.5.2
5) Linux FME Fixed Licensing: Important Notice
6) Quick Info
FME Server Demo: Handling Real-Time Location Data
The great thing about FME Server (from an evangelist point of view) is that users can run demos directly from our in-house Server installation, and need to download or install very little else.
With that thought in mind, I'd suggest browsing on over to this fmepedia article, which describes and links to a demo that everyone at Safe is all fired up about: handling real-time location data.
The scenario is one of vehicle (taxi) locations being provided by a continuously updated GPS reading. In actual fact we're fabricating the data with a Python script to ensure an uninterrupted supply, but a real data source would be little different. A workspace is created to read the data, process it and write it to KML. That workspace is uploaded to an FME Server and registered as a KML Network Link service.
And that's it! Click the workspace URL and it opens up the KML data in Google Earth. Set the network link refresh rate to 2 seconds and you effectively get a real-time visualization of the data as it is updated.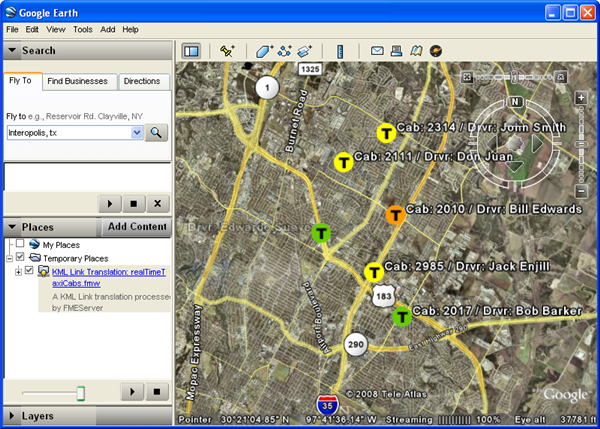 OK. Maybe you've seen similar before, but two things to remember:
This is FME! Simple and quick. There are only 7 transformers in the workspace, and 5 of them are to do with styling the KML. Plus the whole workspace only took 2 hours to develop. In fact it took longer to write the data-creating script.
This is Spatial ETL! What we have is just a starting point. Now you can start to add more source data and carry out transformations. For example, add some road network data you have in your SDE database; merge in a GeoRSS feed of live traffic information; throw in some transformers to resymbolize the output, or to do a spatial overlay.
Hope you find this example interesting, and maybe a little inspiring. If you know of a real-life feed of GPS data then why not let us know so we can try it out?
Python 2.5: Now included with FME2009
Effective build 5573, FME2009 now includes a Python interpreter and a subset of the standard Python library. This means that users will no longer have to install Python separately in order to use the PythonCaller transformer or Startup/Shutdown Python scripts.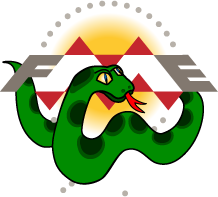 Notes:
At the moment, only Windows is supported. Similar support for Unix is planned prior to the FME2009 release (in fact our developer expects implementation by the end of July)
FME will only use its Python when no other installation of Python can be detected. That means users who do not want the FME Python version (2.5) are free to install another version.
By "subset" of Python we mean we ship everything except tkinter and bsddb – but we're confident this will not impact most users.
Additionally!
As of build 5573 there are also changes in how macros are handled using Python.
The FME_MacroValues dictionary is now initialized by default, so no startup script is required.
In addition to the FME_MacroValues object in the 'main' namespace, we also create a reference in the pyfme namespace, so you can use it from within Python factory modules.
Macro values can now be accessed as objects via pyfme.macros, for example pyfme.macros.DestDataset
TCL: Updated to v8.5.2
The Tcl interpreter in FME2009 has been updated to version 8.5.2. There is a list of highlights on the Tcl official web site (http://www.tcl.tk/software/tcltk/8.5.tml) but in particular we were impressed by: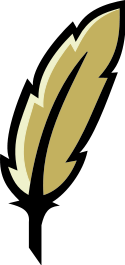 Speed: 8.5 now runs 10% faster than 8.4 with reduced memory usage.
Bignums: Tcl now supports arbitrary-precision integers, which improves math operations on large integers.

clock

command: More robust implementation of command for specifying time, with significant l10n and i18n improvements.

dict

command: New data structure that allows access to data by value rather than a variable name, which is substantially faster.
Additional improvements: Faster list search, new and improved mathematics procedures, anonymous procedures, new ways to package Tcl extensions, Tcl-level custom channel types, file and line location information for each command, and more…
FME2008: New Screen Saver
Resident graphic designer Jara has just completed a screensaver with an FME2008 theme.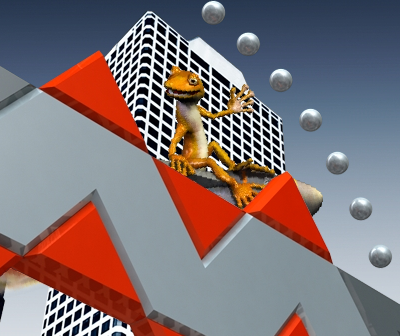 Download it from the fun stuff downloads page on fmepedia to find out what our wacky lizard is up to this time!
Linux FME Fixed Licensing: Important Notice
For reasons of reliability and security, the method of generating Registration Keys for Linux versions of FME has been changed for FME2009. This means that as of build 5574 of FME2009, any machine running a Linux version of FME with a fixed license will require a new license.
For more information see the bulletin on fmepedia.
Quick Info
Reader/Writer and Function/Factory help files have been updated in build 5573
We're reviewing all keyboard shortcuts in Workbench – let me know if there are any you would specifically like to see.
Beta builds of the FME 32-bit and 64-bit Linux versions are now automatically uploaded to our FTP site when available.
The FSP (Forest Stewardship Plan) reader and writer has been updated to version 1.2 as of build 5562
Safe announces partnership with WeoGeo to bring FME Server into the world of cloud computing
This Edition of the FME Evangelist…
…was written to the tune of "The Man In Me" by Bob Dylan.
http://www.youtube.com/watch?v=Y2s8_hCCHg4
This song is played in the intro of one of my favourite movies. Kudos if you know which one.

Mark Ireland
Mark, aka iMark, is the FME Evangelist (est. 2004) and has a passion for FME Training. He likes being able to help people understand and use technology in new and interesting ways. One of his other passions is football (aka. Soccer). He likes both technology and soccer so much that he wrote an article about the two together! Who would've thought? (Answer: iMark)