Introduction
This "week's" issue has important news for Linux, DGN and SQL Server users, plus a number of examples created using FME2008.
Also – this email coincides with the release of a new update to FME2008. This one is build 5204. You can get it from our ftp site at: ftp://ftp.safe.com/fme/beta/fme5204.exe
Although there aren't any large-scale fixes – just a number of minor items that might affect a small number of users – there is a big enhancement with the ability to Write DGN Tags.
See item #2 below for more information on Tag writing, and check out fmepedia for the full list of updates: http://www.fmepedia.com/index.php/FME2008_Post-CD_Fixes
Cheers
Mark
Contents
1. The first 64-Bit FME!
2. DGN Tag writing in FME2008
3. FME and SQL Server Spatial May CTP (CTP-6 Refresh)
4. Checking for Self-Intersecting Lines
5. Weather Maps
6. VolumeCalculator
7. Neighbor Attribute Average
8. Articles on Safe and FME
In case you hadn't noticed (not many people at Safe did!) the first 64-bit version of FME was released for FME2008. It is for Linux only (lucky penguin) and you can find it on the installation CD and on our FTP site.
Note, this is a true 64-bit version, not just one compatible with a 64-bit machine. The ordinary 32-bit version of FME for Linux (called linux-x86) will run on both x86 and x64 versions of Linux.
This 64-bit version will only run on Linux x64.
Also, where the 32-bit Linux FME is built for RedHat EL4 (x86), the 64-bit version is built for RedHat EL5 (x64).
Tux Picture (c) Larry Ewing
Anyone paying attention to the "What's Great" page for FME2009 may have noticed that we have added tag writing functionality to that version of FME. For the non-CAD world, tags are a DGN format means of storing small amounts of attribute data.
On this topic there are two bits of excellent news for all you DGN users: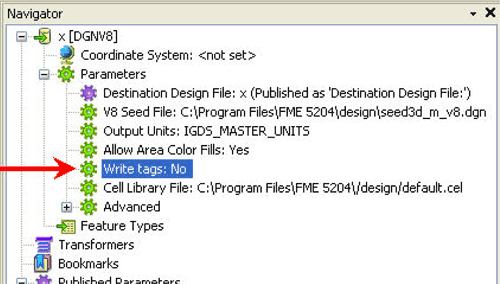 a) Tag writing has been back-ported into the updated version of FME2008 (build 5204). It was just so requested an item we had to do it.
This is what we're calling 'phase 1' of this functionality. You need to create a list attribute for each tagset, each element in that list becoming a tag when you write the output. These would be the same tags you see when reading a dataset with tags.
There is also an option (keyword) to turn this functionality on and off.
There is an example of writing tags using FME2008 on fmepedia at:
http://www.fmepedia.com/index.php/Writing_DGN_Tags
b) For 'phase 2' of tag writing, FME2009 will allow you to add user attributes to your destination feature types (a new experience for you DGN users) and will (optionally) write these 'attributes' as tags on your DGN data.
More information on that functionality when a beta build is made available.
3) FME and SQL Server Spatial May CTP (CTP-6 Refresh)
If you read Spatial Ed (the blog page for Ed Katibah of Microsoft) you'll already be aware that an upcoming release of SQL Server will swap the coordinate order for well-known text (WKT) and well-known binary (WKB) formats from latitude-longitude to the customer requested longitude-latitude.
So how will this affect FME users?
Well, if you upgrade SQL Server to the next CTP (for those not in the know CTP is a fancy acronym for beta version) then you should also upgrade your version of FME to FME2008 build 5200 or newer. You can read the list of updates made to that version on fmepedia and find the download on our ftp site.
Those sticking to the older CTP release of SQL Server should experience no problems, even if you still upgrade your FME. The new FME checks the version of SQL Server and acts accordingly.
4) Checking for Self-Intersecting Lines
As many of you will know, FME has a SelfIntersector transformer to remove self-intersections from lines.
Many users (and a few Safers) had always bemoaned the fact it intersects the data and won't just check for self-intersections. The only way to do this was with a custom transformer like this one on fmepedia.
However, I've just found that the GeometryValidator transformer will test line features and flag as a failure any that self-intersect.
Who knew? Obviously not me.
Right: Yes, this line feature fails the "Simple" test and may therefore self-intersect!
Dmitri Bagh – the "Q" of Safe Software – has been busy playing with web services again.
This time he's dipped into a JSON service that returns information from weather stations within a user-defined bounding box.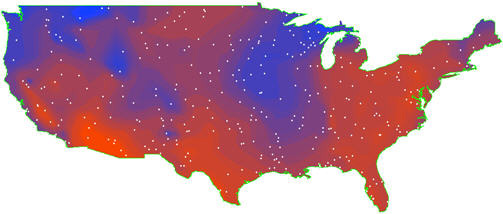 It's a useful example for anyone tasked with reading a JSON or GeoJSON dataset as it deals with the data using JSONExploder and JSONExtractor transformers. The bounding box parameters can – of course – be created using an existing dataset and the BoundsExtractor transformer, which makes this workspace flexible in terms of the area of interest.
You can find Dmitri's workspace on fmepedia.
Safe pro-services dude Dave Campanas recently came up with a useful custom transformer for calculating volume.
The volume is calculated using a set of 2.5D input features and a user-defined "base elevation"; so for calculating the difference between two surfaces you'd want to calculate their volumes separately (to the same base elevation) then simply subtract one from the other.
The transformer also accepts a boundary feature by which to define the area of interest.
http://www.fmepedia.com/index.php/VolumeCalculator
As for me, here's my contribution to the fmepedia workspace pool: a Neighbor Attribute Average Calculator.
This workspace takes a set of adjoining polygons, examines a user-specified attribute and for each polygon calculates the average value of its neighbors.
One use – and I think this is what the requestor wanted it for – would be to identify spikes and wells in a DEM dataset. If the Z value of a polygon is greatly more or less than its neighbors average then it must be an erroneous value.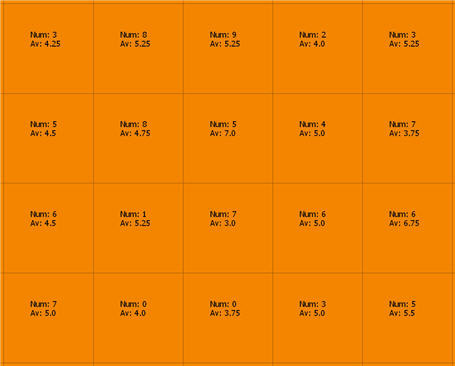 Do you have any other uses? Let us know.
http://www.fmepedia.com/index.php/Neighbor_Attribute_Average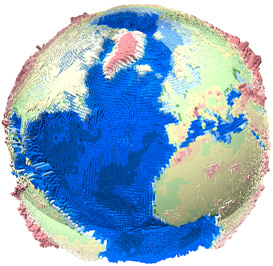 Check out the latest edition of GeoInformatics (p24) for an article by Safe president Don Murray on 'The Growing Need for Spatial ETL'.
http://fluidbook.microdesign.nl/geoinformatics/03-2008/
Does the cover image look familiar?
If that weren't enough, Dale also got his writer's hat on and has two blog postings.
The first is about KML becoming an official OGC specification, and how its impact is comparable to the shockwaves felt when Wayne Gretzky went to play hockey for Los Angeles.
http://spatial-etl.blogspot.com/2008/05/kml-is-ogc-open-specification.html
The second is on the recent Where 2.0 show in San Francisco.
It tells how even if you know nano-formats, you might still not know Jack.
http://spatial-etl.blogspot.com/2008/05/safe-on-location-at-where-20.html
---
Upcoming Events
Star-Apic (an FME reseller) are holding a "Managing and Publishing Spatial Data" event at the Ordnance Survey offices in Southampton, UK.
Included in the events are a workshop on "Making the Most of FME". See the Star-Apic web site for more details.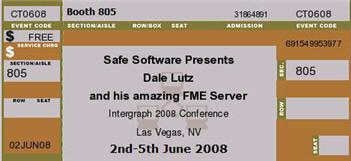 UK reseller Dotted Eyes will be running a FME event at their offices in Bromsgrove, Worcestershire on 18th June 2008. Email marketing@dottedeyes.com for more information.
Now that Celine Dion has finished her Las Vegas show, fellow-Canadian Dale Lutz is taking over with a three day stint at the Intergraph 2008 Conference. June 2nd-5th are the dates. Booth #805 and a 45 minute talk on Spatial ETL for GeoMedia.
For more upcoming events with Safe Software participation, see our web site: http://www.safe.com/aboutus/events/tradeshows.php
---
Coming Soon
The FME Evangelist – this weekly in a more friendly (and email deliverable) form
FME User Central – a new access point for all FME technical resources…
---
This week's Weekly was written to the tune of…
…lots of things, but mostly the Guardian Football Weekly podcast.
In the latest issue the pod discuss John Terry, Avram Grant's replacement and the play-off finals.
If football (soccer) isn't your style then try the BBC's Friday Night Comedy podcast instead.

Mark Ireland
Mark, aka iMark, is the FME Evangelist (est. 2004) and has a passion for FME Training. He likes being able to help people understand and use technology in new and interesting ways. One of his other passions is football (aka. Soccer). He likes both technology and soccer so much that he wrote an article about the two together! Who would've thought? (Answer: iMark)